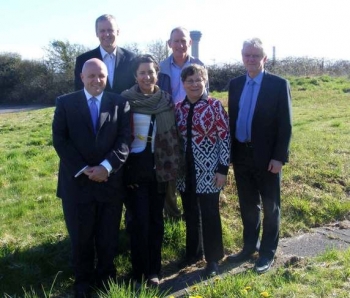 Front row, left to right, NuVision Engineering Vice President Laurie Judd, EM Lead International Affairs Specialist Ana Han, EM Associate Principal Deputy Assistant Secretary Alice Williams and United Kingdom Nuclear Decommissioning Authority (NDA) Head of International Relations John Mathieson; back row, left to right, NDA Sellafield Site Deputy Head Graham Jonsson and EM Deputy Assistant Secretary for Tank Waste and Nuclear Material Management Ken Picha.
A senior-level EM delegation led by Associate Principal Deputy Assistant Secretary Alice Williams visited the United Kingdom's Sellafield nuclear site to gain insight into the cleanup projects and facilities under the jurisdiction of the UK's Nuclear Decommissioning Authority (NDA).
NDA, which is responsible for the decommissioning and cleanup of the UK's civil nuclear legacy, arranged the visit. The delegation met with senior staff at NDA, Sellafield Ltd., the company tasked with cleaning up the Sellafield site, and the National Nuclear Laboratory (NNL), an organization that supports the nuclear industry through technology development, demonstration and implementation. Sellafield is in Cumbria in northwest England.
The delegation and staff discussed major decommissioning projects onsite, such as the:
The delegation toured the:
Thermal Oxide Reprocessing Plant, used to reprocess spent nuclear fuel from the UK and elsewhere, including Japan and Germany;
Waste Vitrification Plant, which converts radioactive waste into safe, stable glass blocks for long-term storage; specifically, the group toured both the active plant and a fully operational, non-radioactive mock-up of the plant which has been used for operator training, operations optimization and troubleshooting for more than a decade; EM is building a similar facility, the Waste Treatment Plant (WTP), at the Hanford site in Washington state;
NNL Central Laboratory, which is currently undergoing active commissioning; and
NNL Workington facility, which houses multiple mock-ups and large-scale demonstration test rigs.
"Sellafield appears to be the Hanford and Savannah River sites compacted into two or three square miles," Williams said. "I have been incredibly impressed with the level of decommissioning activity going on at the site given such a small footprint. The UK knowledge and experience of long-term, successful operation of plants based on the 'black cell' approach is clearly evident and could be of great use to EM as we address the technical challenges at WTP."
The visit was the latest effort resulting from the Statement of Intent (SOI) between EM and the NDA on the management of radioactive waste. Originally signed in 2007 and renewed last year, the agreement enables information sharing and collaboration between the two cleanup programs.
Earlier this year, EM and the NDA held the joint 10th Standing Committee Meeting to discuss progress on the SOI for the information exchange concerning radioactive waste management.