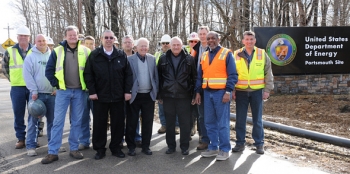 The Pike County Commissioners recently toured the construction site of the county's new sewer line extension being installed. Shown with team members from contractors FOILL Construction, Stantec, and Fluor-B&W Portsmouth in the background are, front row, left to right, Dennis Carr of Fluor-B&W Portsmouth; Commissioners Teddy West, Blaine Beekman, and Harry Rider; EM Site Lead Joel Bradburne; EM Site Director Dr. Vince Adams; and Rick Ginther of Fluor-B&W Portsmouth.
PIKETON, Ohio – Crews are installing a sewer line in the Portsmouth site to connect EM's sewer treatment facility to the Pike County Manufacturing Center, which is being developed.
The project is the result of an agreement EM signed with the Pike County Commissioners in 2010 allowing EM to provide sewer services to the county in support of economic development in the area. Because the Portsmouth site is no longer in gaseous diffusion enrichment operation, the sewer facility is not operating at capacity, allowing EM to extend the offer for the services.
"The Department is working in partnership with our Pike County leaders to take advantage of the excess capacity that can be used to attract development in the community," EM Site Director Dr. Vince Adams said. "We appreciate the hard work the commissioners are doing to further this development for future generations."
Fluor-B&W Portsmouth, EM's primary cleanup contractor at the former uranium enrichment facilities, is assisting with site integration and coordination of construction activities for the sewer line, which is expected to be completed this summer.
Dennis Carr, site project director with Fluor-B&W, said the partnership is a win-win situation.
"Any time you can make use of excess capacity in a utility situation like sewer treatment, you're benefiting everyone involved," Carr said. "Having appropriate sewer services in place will support the nearby manufacturing center. This is just good stewardship of the resources at our site."