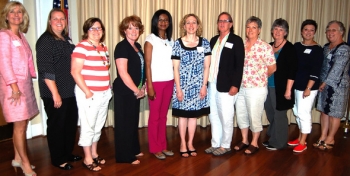 Savannah River Remediation (SRR) Project Services and Support Director Sandra Fairchild, far left, presented checks to recipients of the SRR 2014 STAR Scholarships during a recent ceremony. Recipients, second from left to right, are Nancy Brady-Wood, Kelly Edwards Elementary School, Williston, S.C.; Allison Childers, A. Brian Merry Elementary School, Augusta, Ga.; Mary Hellen Cochran, Greendale Elementary School, New Ellenton, S.C.; La'Kendra Garrett, Merriwether Elementary School, Edgefield County, S.C.; Christi McWaters, East Aiken School of the Arts, Aiken, S.C.; Debbie Murphy, Gracewood Elementary School, Augusta, Ga.; Diane Polk, Busbee Corbett Elementary School, Wagener, S.C.; Mary Simpson, North Augusta Elementary School, North Augusta, S.C.; Theresa Spieker, Mossy Creek Elementary School, North Augusta, S.C.; and Wanda Wates, W.E. Parker Elementary School, Edgefield County, S.C. Recipients not pictured include Holly Palmer, Chukker Creek Elementary School, Aiken, S.C., and Whitten Chavis, J.D. Lever Elementary School, Aiken, S.C.
AIKEN, S.C. – Savannah River Remediation (SRR), the EM program's liquid waste contractor at the Savannah River Site (SRS), awarded grants to 12 area schools to recognize and support excellence in teaching.
The Students/Teachers Achieving Results (STAR) grants are awarded to area elementary schools in South Carolina and Georgia to provide funding for innovative approaches to teaching science, technology, engineering, and mathematics (STEM) areas. SRR has provided over $25,000 in grants since the company began giving grants in 2010.
SRR President and Project Manager Ken Rueter described how the grants are a mutual benefit to the area schools and SRR's STEM-related education outreach.
"We see the bar of standards in education continuing to increase while funding may stay the same," Rueter said. "These grants help teachers provide hands-on, innovative approaches in the classroom that they might not have been able to do with limited resources."
He continued, "SRR is a technology-based company with a history of supporting education. With fewer students pursuing math and science-related careers in the past decade, it is our goal to help reverse this trend to remain competitive, both as a company and a country. We want to help teachers excite students about math and science with these grants."
A team of SRR employees reviewed the grant proposals submitted this year and selected the best entries to receive the grants. The winners featured hands-on experiences for students in math and science by using educational kits and manipulatives, all designed to achieve student excellence in their state's approved educational standards. The winning schools will focus on applying math and science to real-world experiences.