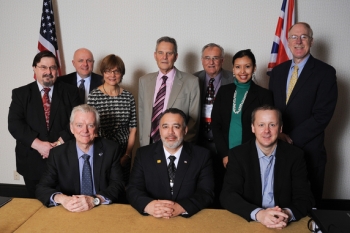 Front row, left to right: John Mathieson, Head of International Relations, U.K. Nuclear Decommissioning Authority (NDA), Joe Franco, Manager, Carlsbad Field Office (CBFO), and Graham Jonsson, Deputy Head, NDA, Sellafield Site; second row, left to right, Andrew Szilagyi, Director, EM Office of Deactivation & Decommissioning and Facility Engineering, Laurie Judd, Vice President for Government Programs, NuVision Engineering, Nancy Buschman, Engineer, EM Office of Nuclear Material Disposition, John Lawes, Contract Manager, Dounreay, Dr. Abraham Van Luik, Manager, International Programs, CBFO, Rosa Elmetti, Foreign Affairs Specialist, EM International Program, and Steve Schneider, Director, EM Office of Tank Waste Management.
Officials from EM and the U.K. Nuclear Decommissioning Authority recently held the joint 10th Standing Committee Meeting to discuss progress on the Statement of Intent (SOI) for the information exchange concerning radioactive waste management.
In opening remarks, Carlsbad Field Office Manager Joe Franco highlighted the Waste Isolation Pilot Plant's excellent operational history. Meeting participants discussed major issues of the EM and U.K. cleanup programs and how both programs are drawing from each other's experience to achieve faster, safer and cost-effective cleanup. The multiple representatives acknowledged the benefit of the transatlantic relationship and identified areas for future collaboration. NDA is tasked with the decommissioning and cleanup of the U.K.'s civil nuclear legacy.
The SOI has resulted in information sharing and joint efforts in thermal treatment technologies, plutonium management, aging facilities management, non-standard fuels disposition, glass chemistry, sodium passivation and decontamination technologies.
"Through the Bilateral Agreement, we are expanding the relationship between the U.S. and the U.K. to find ways to advance our respective cleanup programs," EM Foreign Affairs Specialist Rosa Elmetti said.
The SOI was originally signed in 2007. EM Senior Advisor Dave Huizenga renewed the agreement with NDA last year. Huizenga has said EM values international cooperation and is eager to work with organizations in the U.K. to ensure the relationship is beneficial to both sides.
For more information, contact Elmetti at 202-586-7682 or rosa.elmetti@em.doe.gov.