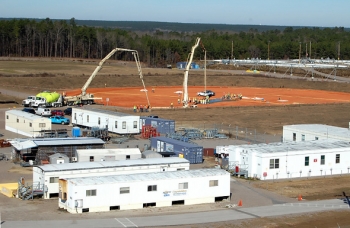 Construction of Saltstone Disposal Unit 6 is under way with the pouring of the initial mud mat. The mud mat provides a solid surface to place the concrete tank.
Next-Generation Units Targeted for Even Larger Savings
AIKEN, S.C. – The EM program at Savannah River Site (SRS) has built two more low-level salt waste disposal units ahead of schedule and under budget. This work is essential to the mission of cleaning and closing the site's underground waste tanks.
Construction of these circular units — vaults built in the past are rectangular — started in late 2010 and was targeted for completion in July 2014. They were completed seven months early and for $8 million less than the anticipated total cost of $76.5 million.
EM has also begun construction on the first of nine next-generation disposal units that are expected to result in even greater savings. Each of these units, which are also circular, will hold an estimated 30 million gallons, or about 10 times the capacity of both units recently built.
Salt waste makes up about 90 percent of the tank waste volume, with the remainder being highly radioactive sludge waste. The SRS Saltstone facility receives the salt waste from the Interim Salt Disposition Process and mixes it with cement powders to form grout. The grout is then pumped into the disposal units, where it is permanently disposed.
"The new circular technology for Saltstone Disposal Units (SDU) has proven successful in the dispositioning of low-level radioactive salt waste. And to construct the next series of SDUs under budget and ahead of schedule is significant for the SRS liquid waste mission," DOE Savannah River Operations Office Acting Deputy Manager Terrel Spears said. "The use of larger tanks, like SDU 6, proves the SRS commitment as a good steward of taxpayer money in that we always pursue the latest, most cost-efficient technologies to assist us in safely performing our mission."
The next-generation disposal units were developed by Savannah River Remediation, EM's liquid waste contractor at SRS, in coordination with partner CH2M Hill.
Instead of 40 pairs of the smaller Saltstone disposal cells, SRS will need only nine of the larger units, which will result in substantial cost savings by requiring less space to design and build. 
"The cost to construct the larger SDUs will result in a significant savings over the life of the project. I congratulate SRR for bringing this new innovation to SRS and committing to its development," SRR President and Project Manager Ken Reuter said.
The construction contract was awarded to BRADY and Associates of Matthews, N.C. This is the largest contract awarded by SRR to a small, disadvantaged business since SRR became the liquid waste contractor at the site in July 2009.