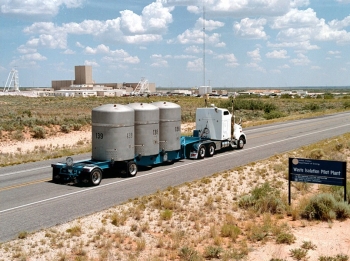 A Waste Isolation Pilot Plant (WIPP) truck approaches the WIPP facility near Carlsbad, N.M. Since opening in 1999, WIPP has established an impressive record. In addition to transporting more than 10,500 shipments safely, WIPP drivers have logged more than 12.6 million safe loaded miles — equivalent to 26 roundtrips to the moon — without a serious accident or injury. Their work has helped DOE clean up 22 transuranic waste sites around the nation.
CARLSBAD, N.M. –Carlsbad Field Office (CBFO) Office of Business Director David Garcia will tell you that small business "delivers."
In January, DOE's Environmental Management Consolidated Business Center awarded two contracts to CAST Specialty Transportation, Inc. and Visionary Solutions, LLC, both small businesses, to provide trucking services to transport transuranic (TRU) waste from DOE and other defense-related TRU waste generator sites to the Waste Isolation Pilot Plant (WIPP).
The contracts are firm-fixed-price with cost-reimbursable expenses over five years. Both companies are incumbent contractors, credited with the safe delivery of thousands of TRU waste shipments to WIPP for final disposal. TRU waste consists of materials contaminated with radioactive elements that have atomic numbers greater than uranium, including tools, rags, protective clothing, sludge and soil.
"These two carriers provide a much needed service for both DOE and the nation," said Garcia.
CAST Transportation, headquartered in Henderson, Colo., was established in 1948 by the parents of company owner Rick Esche. "They started out with one common carrier truck and the drive to succeed," said Esche, who chuckled at his unintended pun. CAST Transportation developed a sister company, CAST Specialty Transportation, in 2003 to provide DOE with a dedicated fleet for the WIPP project. CAST also transports enriched uranium and nuclear fuels.  "Had it not been for the DOE WIPP contracts, we would not have experienced the growth in other nuclear commodities," said Eshe.
The total maximum value of the CAST Specialty Transportation contract at WIPP, which began in January 2012, is $119 million, if all options are exercised. "We are honored to serve the Department of Energy and by their confidence in us," Eshe said.     
Visionary Solutions LLC is a certified small, disadvantaged minority-owned business with headquarters in Knoxville, Tenn. Visionary began as a small consulting firm in 2000, providing transportation management services. Cavanaugh Mimms, president and co-owner, said DOE contracts have allowed the company to grow. "Since 2000, the company has hired some of the best drivers and staff in the commercial vehicle industry, more than doubling the number of people we employ," he said.  The total maximum value of the Visionary contract, which begins in July 2012, is $120.5 million, if all options are exercised.
"Transportation is often a seasonal business," said Dee Markelonis, Visionary Solutions chief operating officer and co-owner. "We've benefited from DOE contracts for long-term campaigns rather than single loads, which have allowed us to achieve sustainability despite economic downturns."
The competitive bid process for WIPP transportation services involved one solicitation, two awards with four eligible companies competing. "These two small businesses were selected as being the offerors that provided the best value to the government," Garcia said. "Both have excellent performance and safety records which are essential to the services they provide."