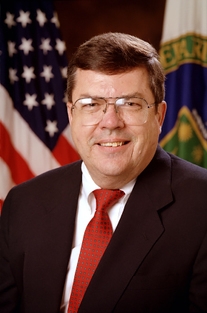 Leo Duffy served as head of DOE's nuclear cleanup program from 1989 to 1993.
Editor's note: In an occasional EM Update series, we feature interviews with former EM Assistant Secretaries to reflect on their achievements and challenges in the world's largest nuclear cleanup and to discuss endeavors in life after EM. 
More than 24 years ago, Leo Duffy became the first Assistant Secretary of DOE's Office of Environmental Restoration and Waste Management. Confirmed during President George H.W. Bush's administration, Duffy served as the head of this new mission from 1989 to 1993. That pioneering program is now the Office of Environmental Management.
Duffy established EM to tackle the nation's nuclear waste legacy. When reflecting on his tenure at DOE, he considers the establishment of EM his biggest accomplishment. The former cleanup chief solicited feedback from Congress and hundreds of engineers and scientists across the complex to create this groundbreaking program and an initial five-year plan. His efforts resulted in a $5.3 billion dollar operating budget and a staff of 1,400 for the new office.
In recognition of his development of EM and the five-year plan, Duffy was honored as the Engineering News Record Construction Man of the Year in 1993. This is one of the construction industry's most esteemed awards.
"It was a prestigious recognition for me personally and all EM staff and DOE," said Duffy. "It was a major national recognition of the EM program."
If he had to do it over again, Duffy said he wouldn't change anything. He stressed the importance of having credibility and listening to positive and negative feedback.
"If you're going to get anything out of a discussion, it has to be a communicative discussion," Duffy said.
Over a 40-year career, Duffy developed a comprehensive knowledge of nuclear and fossil-fueled energy generation, waste management control and environmental compliance requirements through his professional experience in federal government and private industry. The former contractor is retired in Pennsylvania, but he still follows developments at the Department and continues to offer his advice to DOE leadership on EM issues.