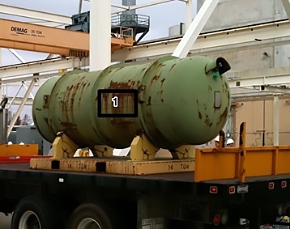 The Paducah plant processed this DUF6 cylinder, its first, in 2011.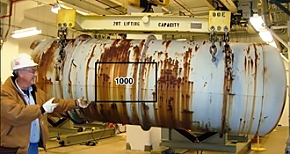 Shown here, earlier this month, is the 1000th cylinder the Paducah plant processed.
PADUCAH, Ky. – After more than doubling production in fiscal year 2013, the Depleted Uranium Hexafluoride (DUF6) Conversion Project is moving from start-up mode to full production mode.
Operated for DOE by Babcock & Wilcox Conversion Services LLC (BWCS), the DUF6 project's mission is to convert the nation's approximately 800,000-metric-ton inventory of DUF6 to more benign forms for sale, long-term storage or ultimate disposal. BWCS took responsibility for plant operations in 2011.
Production in fiscal year 2013 at the Paducah and Portsmouth plants totaled 13,679 metric tons, more than double the production of 6,170 metric tons converted in fiscal year 2012 and surpassing the year's target of 12,685 metric tons by 9 percent.
In January, each plant announced it finished processing 1,000 cylinders. There are currently some 45,000 cylinders awaiting conversion at Paducah and 20,000 cylinders awaiting conversion at Portsmouth.
The target for fiscal year 2014 is 22,700 metric tons, a near doubling of fiscal year 2013 production.
"BWCS is continuing to pursue operating and maintenance plans to achieve maximum safe performance," said Jack Zimmerman, federal project manager at EM's Portsmouth/Paducah Project Office.
"We think the target for this year is achievable," said BWCS President George E. Dials. "That's an increase of 66 percent but it's consistent with our ongoing ramp-up operating strategy. For the past 30 months we have been ramping up production and adjusting and modifying the plants and equipment to achieve the rate that can be safely sustained in continuous operations."
The Portsmouth plant reached five years of operations without a lost-time accident in November, and the Paducah plant marked one year without a lost-time accident the same month.
"Our goal all along has been safe, sustainable operations," Dials said. "Safety is first, and the sustainability of operations over the long-term supersedes any immediate aggressive action to achieve what would ultimately be unsustainable production."
He continued, "In this fiscal year, we'll be looking at ways to increase sustainable operations and will be adjusting systems to increase reliability and availability, which will account for the increased production we're targeting."
In the first quarter of fiscal year 2014, both plants processed 1,000 metric tons in a single month for the first time. Total production for that three-month period was nearly the total of the entire production for fiscal year 2012.
The two DUF6 plants — each employing approximately 200 people — are expected to take up to 30 years to convert the extensive inventory of DUF6 generated by six decades of uranium enrichment at the Portsmouth and Paducah gaseous diffusion plants.