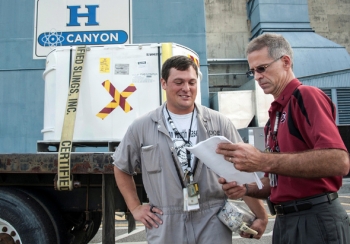 John Barnes, right, discusses a transuranic (TRU) waste container with Charles Fairburn of Savannah River Nuclear Solutions. The TRU waste container was repackaged in the Savannah River Site H-Canyon facility. Barnes has more than 23-years of experience at the Savannah River Site as a Facility Representative.
AIKEN, S.C. – John Barnes, a Savannah River Site (SRS) employee who works in EM's Cold War cleanup program, was recently honored as the 2012 DOE Facility Representative (FR) of the Year. The award recognizes his sustained performance in identifying and resolving safety and operational issues in facility operations.
DOE facility representatives provide direction, oversight and evaluation of contractor technical activities that could impact the safe operation of DOE's defense nuclear facilities.
"As a DOE FR, you serve in a capacity that demands a strong questioning attitude, a high degree of technical expertise, and continual quest for improvement," Energy Secretary Ernest Moniz said in a letter recognizing Barnes. "Your performance exemplifies the very best from among almost 200 DOE FRs, a highly regarded group of professionals who ensure safe and reliable operation at DOE nuclear facilities."
Barnes provides oversight of nuclear and non-nuclear facilities at SRS that include the H-Canyon chemical processing facility and the HB-Line. These facilities perform several important missions that process plutonium and uranium. H-Canyon is the only chemical and nuclear processing facility operating in the U.S. Barnes also provides oversight of transuranic (TRU) waste repackaging in the H-Canyon facility that prepares TRU waste for shipment to the Waste Isolation Pilot Plant in New Mexico f or permanent disposal.
In the nomination for the annual Department-wide award, Barnes is cited for his exceptional effectiveness in analyzing all aspects of several nuclear operations processes, posing safety-related questions and assisting the contractor in developing solutions. His nomination credited significant improvements to the safety of operations in facilities and overall contributions to the FR program.
"I'm humbled to have been selected, given there are so many equally deserving of this recognition," Barnes said. "I'm blessed to have a strong group of peers and management team to work with."