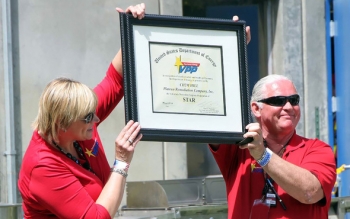 VPP representatives Barbara Williams and Jack Griffith with contractor CH2M HILL Plateau Remediation Company receive the VPP Star Status certificate for their project at EM's Richland Operations Office at the Hanford site.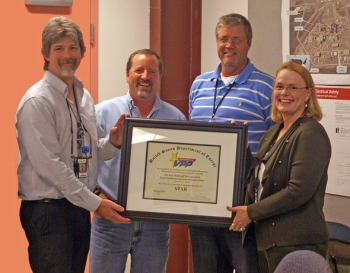 ORP recently recognized Bechtel for its safety program at WTP by recertifying Bechtel's Voluntary Protection Program Star Status. Pictured from left are WTP Assistant Manager/Federal Project Director Bill Hamel, with ORP; WTP Construction Manager Scott Neubauer, with BNI; WTP Construction Site Manager Danny Hydrick, with BNI; and WTP Project Director Peggy McCullough, with BNI.
Several contractors across the EM complex received honors in recent months in an important DOE safety program that turns to workers to assess, prevent, and control potential health and safety hazards.
DOE launched its Voluntary Protection Program (VPP) in 1994 to encourage and recognize excellence in occupational safety and health protection. The program outlines areas DOE contractors and subcontractors can exceed compliance with DOE orders and Occupational Safety and Health Administration (OSHA) standards. It relies on cooperation between managers, employees, and DOE to continuously improve health and safety programs.
Seventeen contractors and subcontractors to EM participate in VPP, including six from the Hanford site and the others from the West Valley Demonstration Project, Waste Isolation Pilot Plant, and the Savannah River, Idaho, Paducah, Portsmouth, and Oak Ridge sites. In the past few months, Bechtel National Inc., Advanced Technologies and Laboratories International, Inc., CH2M Hill Plateau Remediation Company, and Washington River Protection Solutions — all Hanford contractors — received certification or recertification for Star status, the highest level of recognition. CH2M-WG Idaho, known for having one of the strongest VPP programs, is expected to receive Star status recertification in the next few weeks.
"Annually, DOE-VPP participants avoid accident and injury costs estimated at $20 to $40 million," said Brad Davy, director of DOE's Office of Worker Safety and Health Assistance, which administers the program. "We expect Star participants to demonstrate significant worker involvement and participation, as well as increased manager visibility and accessibility, which leads to improved communication trust, more effective work planning, and successful mission performance."
For certifications and recertifications, four- to eight-person DOE teams conduct two-week assessments at the sites on management leadership, employee involvement, work planning and control, and safety and health training. Each participating company is reevaluated every few years. The teams look for an ongoing commitment to continuous improvement and an active partnership between managers and the workforce.
The DOE-VPP program is similar to the OSHA-VPP. Contractor participation is voluntary, and participants can withdraw from the program at any time. 
"Waste Treatment and Immobilization Plant employees have done an excellent job in taking ownership for their safety, and looking out for each other on a large construction site is critical to achieving the level of safety we want and the DOE expects," Bechtel's WTP Project Director Peggy McCullough said.
EM contractors participating in VPP include:
• Advanced Technologies and Laboratories International, Inc.
• Bechtel National, Inc.
• CH2M-WG Idaho, LLC
• CH2M Hill Plateau Remediation Company
• CH2M-HILL B&W West Valley, LLC
• Idaho Treatment Group, LLC
• INTERMECH
• Mission Support Alliance, LLC
• Nuclear Waste Partnership, LLC
• Parsons Corporation
• Savannah River Nuclear Solutions, LLC
• Savannah River Remediation , LLC
• Swift and Staley Team Infrastructure Support Contract
• Washington Closure Hanford
• Washington River Protection Solutions
• Wastren Advantage TRU Waste Processing Center
• Wastren-EnergX Mission Support, LLC
Savannah River Remediation Achieves Safety Milestone
In related news, Savannah River Remediation, the EM program's liquid waste contractor at the Savannah River Site (SRS), recently surpassed 4 million hours without work-related injury or illness resulting in missed work days.
The achievement comes on the heels of a milestone marked earlier this year when a portion of the construction workforce at SRS surpassed more than 26 million hours without work-related injury or illness resulting in missed work days.