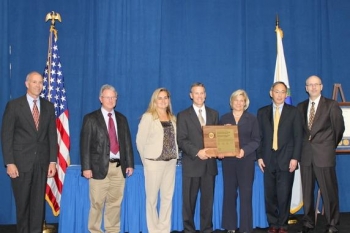 EM employees were part of the Uranium-233 (U-233) Disposition Alternatives Analysis team. Members of the team are pictured here with Secretary Chu, second from right, after receiving an Achievement Award Thursday.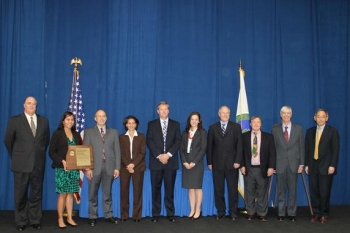 Members of the Depleted Uranium Hexafluoride Tails Re-enrichment Project team gather for a photo with Secretary Chu, far right, after receiving an Achievement Award Thursday.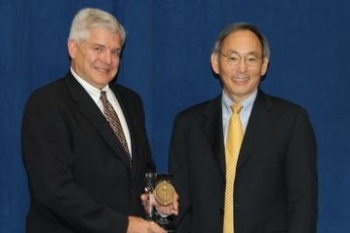 EM's Richland Operations Office Lead General Engineer Thomas K. Teynor received an Excellence Award Thursday. He is pictured here with Secretary Chu, right.
WASHINGTON, D.C. – DOE honored EM with five awards for excellence and achievement Thursday as part of the Secretary's Honor Awards Ceremony, an event that also marked the 35th anniversary of the creation of the Department.
Recipients of 16 awards were chosen from more than 55 nominations. Each nomination underwent a comprehensive review process that included DOE leadership prior to delivery to Secretary Chu for his selections.
Four of the 11 Achievement Awards presented Thursday honored successful EM efforts, including:
Uranium-233 (U-233) Disposition Alternatives Analysis: EM was part of the analysis team that worked long hours to find cost-effective and technically viable alternatives for disposition of U-233. The team developed as plan that will reduce the project's lifecycle costs by approximately $600 million. The disposition of the U-233 assets will remove an environmental legacy from the Oak Ridge National Laboratory campus, eliminate an estimated $12 million in fixed annual security and storage costs and make land available for future DOE Office of Science (SC) research activities. The team's success serves as an example of the benefits that can be derived through intra-agency cooperation among EM, SC and the National Nuclear Security Administration;
Depleted Uranium Hexafluoride Tails Re-enrichment Project: EM was part of a group that developed a plan to continue enrichment operations at the United States Enrichment Corporation, Inc. (USEC) Paducah Gaseous Diffusion Plant. In 2011, USEC announced that it was considering ceasing operations there. The loss of the plant's capability to enrich uranium would have led to adverse effects on DOE in both its nuclear security and environmental cleanup operations, in addition to the negative impacts a plant closure would have had on the local economy. The DOE team engaged with officials from Energy Northwest, the Tennessee Valley Authority and USEC to develop an arrangement consisting of a number of individual commercial transactions between the collaborating organizations;
200 West Groundwater Pump and Treat System: This award is for the DOE and contractor project team responsible for the successful design and construction of the EM facility designed to remediate the 5-square-mile groundwater plume resulting from 50 years of plutonium finishing operations at the Hanford site. Completed this year, the facility is a key component to the remedy to restore the groundwater to drinking water standards. The team successfully completed the project within tight cost and schedule constraints — it came in at more than $41 million under budget and two months ahead of schedule — and met the complex technical requirements for the system. This was accomplished through excellent team coordination, innovative thinking and proactive management of issues; and
Argonne National Laboratory Nuclear Footprint Reduction: EM was part of the Argonne Nuclear Footprint Reduction and Deactivation Plan Team, a collaboration supported by multiple DOE programs, field sites and organizations, national laboratories and facilities and many dedicated individuals. Between fiscal years 2009 and 2011, the initiative dramatically lowered risk by significantly reducing the radioactive materials and waste inventory at the site. The team also improved compliance and fulfilled or exceeded commitments made to EM and SC. The team reduced the inventory of Argonne's Alpha Gamma Hot Cell Facility — cited in an EM survey as the highest risk and technical challenge among all facilities reviewed — by about two-thirds. In addition, a new national capability was developed at the Waste Isolation Pilot Plant for the disposal of Argonne's fuel examination waste as a unique type of remote-handled transuranic waste. That capability is expected to be useful to other waste generators in the DOE complex.
EM's Richland Operations Office Lead General Engineer Thomas K. Teynor was one of four recipients of DOE's Excellence Awards.
In 2008, Teynor was designated the Federal Project Director for the Hanford K Basins Sludge Treatment Project. That project is vital to removing highly radioactive spent nuclear fuel sludge from underwater storage in a 1950s vintage fuel basin.
Under Teynor's leadership, the project removed critical risk to the Columbia River due to spent nuclear fuel and K Basin sludge. Teynor developed a coalition of technical experts from across the DOE complex to reach consensus on disposal paths for the waste. He established a process that used external reviews in conjunction with a robust Technology Readiness Assessment program to select and develop technologies necessary for the project. Teynor also paved the way for an operator training and technology development program, enabling the project to determine the best, safest, and most efficient way to remove the sludge from the basin. He also imposed a strong engineering, operations, project management and safety discipline in the project.
Former Federal Project Director John W. Krueger also received an Excellence Award. He was recognized for his extraordinary leadership in the successful management of the U-233 Disposition Project. Krueger led the development of a fundamentally new disposition strategy that could be implemented on an accelerated schedule at substantially less cost with no compromise of safety.
Also on Thursday, Chu honored DOE Office of General Counsel Deputy General Counsel Eric J. Fygi with the James R. Schlesinger Award. Fygi has been integral to the success of the EM program.
On Oct. 1, 1977, Schlesinger, America's first Energy Secretary, was tasked with bringing various federal agencies and programs together under one roof to better advance this country's energy security.