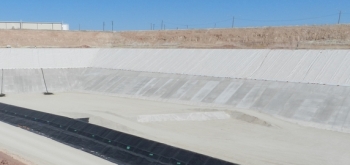 The Waste Control Specialists Federal Waste Disposal Facility in Andrews, Texas.
ANDREWS, Texas – DOE officials participated in an event today to celebrate the opening of the first commercial disposal facility of its kind.
EM Senior Advisor Dave Huizenga and several other federal, state and local officials attended the event at Waste Control Specialists (WCS) in Andrews and witnessed the first container being placed in the new state-of-the-art facility. WCS is a waste processing and disposal company.
"I am proud to be here today to celebrate this historic event. We appreciate the state of Texas, the local communities and Waste Control Specialists for their support of our important national cleanup mission and look forward to a continued, collaborative relationship to ensure the safe disposal and long-term management of this nation's low-level and mixed low-level (LLW/MLLW) radioactive waste," Huizenga said.
The DOE Los Alamos Field Office is the first to dispose of waste in this new facility.
"With the help of WCS and the supporters in Texas, we now have a cost-effective way of meeting our commitment to the Governor of New Mexico that was agreed to following the 2011 Las Conchas fire that came within 3-1/2 miles of the Las Alamos National Laboratory waste storage area," Los Alamos Field Office DOE Transuranic Waste Manager David Nickless said.
The framework agreement between DOE and the state of New Mexico requires the removal of 3,706 cubic meters of waste from Los Alamos by June 30, 2014. Much of the waste is transuranic and is being disposed of at the Waste Isolation Pilot Plant in New Mexico. Some of the waste, however, is classified as LLW/MLLW and can be disposed of in the new WCS Federal Waste Disposal Facility.
On April 12, EM awarded two fixed-price Indefinite Delivery/Indefinite Quantity (ID/IQ) multiple-award contracts for the permanent disposal of waste resulting from decades of nuclear weapons development and research. DOE facilities throughout the U.S. are able to issue task orders under the contracts awarded to EnergySolutions and WCS.
Photos from the event will be posted on the EM Flickr page within a week.