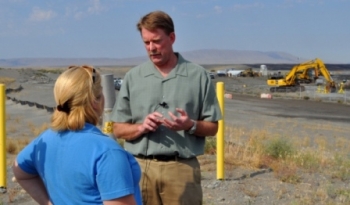 Hanford Federal Project Director Mark French explains the waste site remediation efforts taking place at the 618-10 Burial Ground to a member of the media.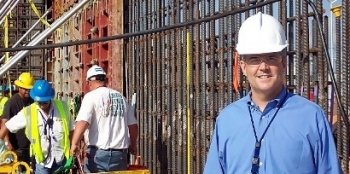 Savannah River Operations Office Deputy Manager Zack Smith has been certified as a federal project director since 2006.
WASHINGTON, D.C. – Nearly 160 EM employees maintain certifications from a project management program that helps them achieve successful outcomes in the Cold War cleanup.
The employees have been certified as federal project directors in DOE's Project Management Career Development Program. Participants in the program work to improve their project management and leadership skills to help them achieve goals, such as delivering projects within cost and on schedule. The certification is similar to credentials for professional engineers, licensed nurses and other professionals.
The certified directors are located at each field site in the EM complex. As of September this year, 85 percent of EM's projects — 11 of 13 — were staffed with them.
These directors are required to complete 80 hours of coursework every two years and document experience in capital asset projects, which have defined scopes, schedules and costs. They also aspire to obtain four levels of certification based on the value of projects they oversee.
Michael Keane, a general engineer with EM's Office of Project Assessment, works on the certification process and is pleased with EM's growing success in the program.
"We have a significant number of employees certified as federal project directors, which gives us a strong base for managing projects and other acquisition activities," he said. "EM has been able to get most of its capital asset projects completed, and we have been able to constantly improve the percentage of our appropriately certified federal project directors."
Over time, the certification process has become more complex and challenging due to the increase rigor of the program. Keane leads an internal review team with expertise geared to helping employees in their certification efforts.
"We are here to support them as they help EM increase its effectiveness and excel in its cleanup mission," Keane said.
Savannah River Operations Office Deputy Manager Zack Smith has been certified as a federal project director since 2006. He believes the program has broadened his knowledge of project management and improved his leadership skills. 
"I think it's a good framework for increasing your depth of knowledge as well as breadth of knowledge. I've learned a lot more about business as well as leadership from the structure of the development program," Smith said.
Smith also appreciates the program's continuing education, which keeps his skills sharp.
"The expectation for continuing education is almost like a steady reminder. I'm aware of that all year, so I pay attention to increasing my knowledge in project fundamentals and leadership," he said. "I feel like I'm always boosting myself to a higher level of knowledge. It drives the mindset of continuous improvement and development."