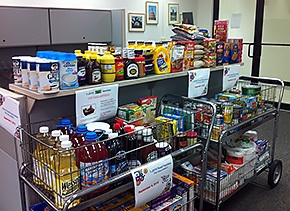 Pictured are donations the Office of Human Capital at EM headquarters provided to the campaign.
WASHINGTON, D.C. – EM and its field sites donated 53,630 pounds — or 27 tons — of non-perishable items to a food drive by federal workers to help feed families across the country in 2013.
EM surpassed its goal to donate 50,000 pounds to the 2013 Feds Feed Families Campaign.
In Ohio, EM's Portsmouth site donated to the Community Action Committee of Pike County Food Pantry, which typically feeds about 250 needy families in one week. Although the pantry was closed for a period in July because of a shortage of food, the EM donation of 1,151 pounds on July 30 was large enough to allow the pantry to open its doors again to the public. EM employees delivered an additional 1,680 pounds of food Aug. 23 and 7,139 pounds of food Aug. 27.
EM's drive contributed to the greater DOE campaign that collected 215,287 pounds of non-perishable food items for local food banks.
The summer months are a crucial time for food banks to maintain stocked shelves. Contributions are welcome throughout the year. Consider donating to your local food banks this holiday season to help take care of people in need.
Last year, EM donated close to 50,000 pounds of non-perishable items to the Fourth Annual Feds Feed Families Campaign, easily beating its target of 19,120 pounds.