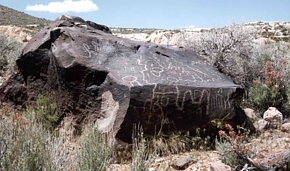 This petroglyph is among the many prehistoric artifacts at the NNSS.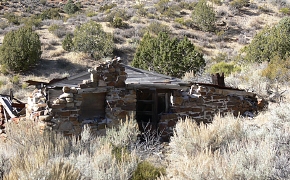 Bower Cabin, on the NNSS, is a dwelling associated with mining dating to the early part of the 20th century. During the 1920s, writer B.M. Bower wrote 11 of her many popular novels while living in this cabin with her family. She was posthumously inducted into the Western Writers of America Hall of Fame in 1994.
LAS VEGAS – It is well known that the Nevada National Security Site (NNSS) is home to many artifacts from the Cold War. But few people may be aware of the older important cultural resources that exist throughout the site.  
Artifacts ranging from hundreds to thousands of years old are part of the NNSS cultural inventory. The NNSS' Cultural Resources Management Program has documented tools and dwellings associated with mining and ranching from the 1800s and 1900s. Also on record are numerous prehistoric artifacts, including rock shelters, fire pits, stone tools, petroglyphs, pottery, and arrow points — some dating back to over 10,000 years. 
"The NNSS is extremely unique in that the site contains so many different kinds of artifacts representing so many different eras," said Federal Cultural Resources Program Manager Linda Cohn. "And these are significant items that really tell a story about human history."
The NNSS Cultural Resources program, led by the Desert Research Institute (DRI), works to document and protect these sensitive resources in keeping with historic preservation laws and the input of the State of Nevada and American Indian Tribes with prehistoric affiliation to the region. Under the National Historic Preservation Act, federal agencies must consider the eligibility of sites (any object, building structure, or landscape) over 50 years old for listing on the National Parks Service's National Registry of Historic Places — an official list of significant historical and archaeological sites in America.
In addition to approximately 300 nuclear testing-related structures or objects, DRI has completed cultural resources inventories of more than 1,300 archaeological sites at the NNSS.