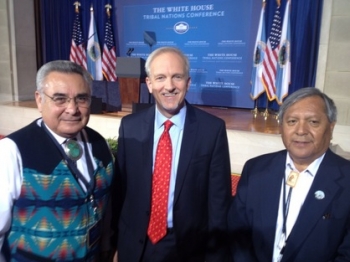 EM Senior Advisor Dave Huizenga, center, in a photo with National Congress of American Indians President Jefferson Keel, left, and Santa Clara Pueblo Governor Walter Dasheno at the White House 2012 Tribal Nations Conference.
WASHINGTON, D.C. – EM is working with other DOE offices to expand contracting opportunities for Tribal Nations across the complex.
The DOE Offices of Indian Energy and Economic Impact and Diversity are partnering with EM to develop a Departmental strategy to eliminate barriers Tribal Nations face competing for contracts.
In support of this effort, Secretary Steven Chu issued a policy and guidance that gives preference to Tribes when DOE contracts to purchase renewable energy products and byproducts, including electricity, fuel sources and renewable energy certificates. Stakeholders can shape the future of EM sites by building on successful intergovernmental partnerships and Tribal business interests.
EM has cooperative agreements with more than a dozen Tribes throughout the U.S. near EM field sites. EM Senior Advisor Dave Huizenga has committed to visit the Tribes in their communities to better understand their values, cultures and concerns.
Late last year, Huizenga participated in the 2012 Tribal Nations Conference, a large gathering of Tribal leaders hosted by the White House. At the conference, Huizenga represented DOE as a panelist in a breakout session titled "Securing Our Future: Cultural Protection, Natural Resources and Environmental Protection." Huizenga listened to Tribes' concerns about EM's nuclear cleanup throughout the conference.
The goal was to further strengthen the government-to-government relationship between federally recognized tribes and the Obama Administration. Leaders from the 566 federally recognized tribes were invited to the conference to interact directly with the President and Administration officials.
The White House also issued a report, Continuing the Progress in Tribal Communities, which examines the Administration's work with Tribes.
The report points to the Indian Country Energy & Infrastructure Working Group as an invaluable tool for DOE as it continues to build a collaborative and innovative new program to support energy development in Indian Country. The group of Tribal leaders offers expertise in active energy facilities operations and significant project development experience.
Additionally, DOE is among the federal agencies that joined the Navajo Nation to clean up Cold War uranium mines on the Navajo Reservation. The agencies assessed more than 520 mines, 700 homes and 240 drinking water wells, the report says.
Last June, EM convened a meeting of eight leaders of Tribal Nations to build partnerships and better shape the future of DOE sites. Participants in this first-ever Tribal Leader Dialogue discussed ways to enhance the involvement of Tribal Nations in decisions regarding EM's cleanup mission.