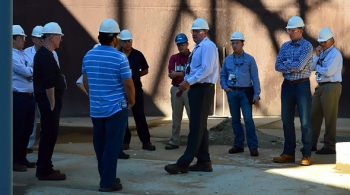 Ben Harp, center, manager of Hanford's Waste Treatment Plant Start-up and Commissioning Integration, discusses the advantages of ORP's Cold Test Facility to a group of congressional and state legislative staffers during a recent tour.
RICHLAND, Wash. – EM's Office of River Protection (ORP) recently hosted a group of congressional and state legislative staffers on a tour of the Hanford site.
ORP Manager Kevin Smith greeted representatives from the offices of U.S. Sens. Patty Murray (D-Wash.) and Maria Cantwell (D-Wash.); U.S. Reps. Doc Hastings (R-Wash.) and Derek Kilmer (D-Wash.); and Washington Gov. Jay Inslee (D).
The tour included stops at ORP's Cold Test Facility (CTF), Tank Farms and Waste Treatment and Immobilization Plant. 
CTF is the test site for technologies for use in the safe management and cleanup of radioactive and chemical waste stored in Hanford's 177 underground storage tanks. CTF was constructed to replicate the majority of the older, single-shell tanks at Hanford. It is 75 feet in diameter, 27 feet high and can hold approximately 660,000 gallons of material, though it is not intended to ever be filled.
The facility provides a non-radioactive environment where workers can simulate tank waste conditions to determine whether a particular piece of hardware will function as intended without compromising the safety of the workers or the environment.