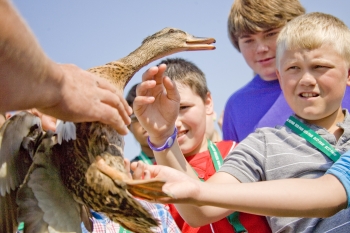 Lone Oak Middle School sixth-graders pet a mallard hen at the third annual Eco Fair May 15 in West Kentucky Wildlife Management Area.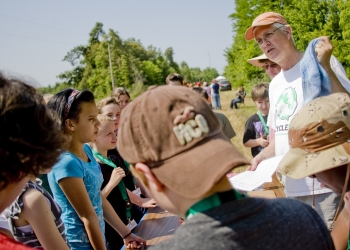 Ralph Young of Recycle Now! explains to Eco Fair attendees the value of recycling. Young is chairman of the Paducah Citizens Advisory Board, which advises the Department of Energy regarding cleanup issues at the Paducah site.
PADUCAH, Ky. – Nearly 500 sixth-graders from three Paducah area middle schools participated in the third annual Eco Fair this past spring.
The event near the Paducah site, sponsored by the Paducah Citizens Advisory Board (CAB) and DOE, took place near a small lake in West Kentucky Wildlife Management Area just west of the site. The management area includes nearly 2,000 acres of DOE-owned land licensed to the Kentucky Department of Fish & Wildlife Resources (KDFWR).
Lone Oak Middle School student Trevor Tilley was impressed with a demonstration about how the nation's landfills are swelling with waste that takes nearly an eternity to biodegrade.
"It surprised me that Styrofoam didn't take the longest to decompose," Tilley said. "It was glass bottles."
Glass bottles and jars take about 1 million years to break down, according to the Recycle Now! exhibit. Recycle Now! is a recycling facility that is part of the Greater Paducah Sustainability Project, a Paducah nonprofit organization that CAB Chairman Ralph Young supports.
The CAB is an independent group that advises the Department on cleanup issues.
Eco Fair attendees learned at the Recycle Now! demonstration that people throw out enough glass bottles and jars every month to fill a giant skyscraper.
"Our exhibit was a little more hands-on this year," Young said. "They had to use their brains and rank which waste breaks down the fastest."
Other Eco Fair activities were fish and waterfowl monitoring, water filtration, tree sustainability, cooking with solar heat, and radiation in everyday life. Students also heard about the history of the Paducah Gaseous Diffusion Plant and the Department's role in overseeing environmental cleanup.
KDFWR personnel showed students how waterfowl are banded and tracked with transmitters, and how fish are stunned with mild electrical charges so they can be examined to monitor their population.
Other Eco Fair participants included the CAB and DOE cleanup contractor LATA Environmental Services of Kentucky.