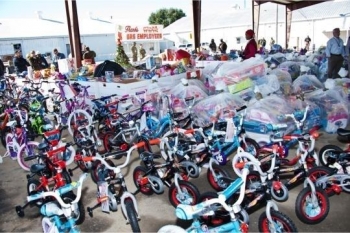 Shown here are some of the thousands of items employees at the Savannah River Site collected for Toys for Tots.
WASHINGTON, D.C. – EM employees and their contractor counterparts donated more than $800,000 and other gifts to people in need in recent months. The charitable giving drives were administered through multiple efforts, including the latest Combined Federal Campaign season that ended this month.
The campaign is a workplace charitable giving drive for employees in the federal workplace. Employees at EM headquarters donated more than $91,000 through individual donations and proceeds from fundraising events such as a silent auction, chili cook-off, bake sale, a competition called "putt-putt golf" and a holiday door decorating contest.
At the Richland Operations Office at the Hanford site in Washington state, employees donated more than $90,000 after conducting events such as a Super Bowl chili feed and themed gift basket competition. Employees at the Office of River Protection, also at Hanford, donated to several causes. They gave $75,000 to Second Harvest to fund construction of a larger food distribution center in Pasco and $30,000 to the Tri-Cities Food Bank. The Columbia Basin College received $65,000 to help unemployed workers develop skills necessary to move into new careers. Donations totaling $30,000 also went to the Grace Clinic, which provides free medical treatment to people without medical insurance. Hanford site contractor Washington River Protection Solutions donated $200,000 to local residents who are in need of food, unemployed or uninsured and requiring medical care.
The Portsmouth Paducah Project Office in Lexington, Ky. donated more than $12,000 to the campaign and also provided Christmas gifts to eight children. Employees at the EM Consolidated Business Center in Cincinnati, Ohio, raised more than $44,000 for the campaign through donations and proceeds from events such as a chili cook-off.
In Aiken, S.C., Savannah River Site (SRS) donations to the campaign totaled more than $143,800. Employees also collected more than 13,000 items for the Marine Toys for Tots Foundation. Since the start of the SRS Toys for Tots campaigns in 1991, employees have collected more than 215,000 toys for the effort. The 2011 campaign marked the largest toy contribution to date at SRS, an effort requiring several large trucks and numerous volunteers. SRS contractor Savannah River Remediation (SRR) donated $500 to Helping Hands — an agency that provides a 24-hour emergency home for abused, abandoned, and neglected children in South Carolina — as part of SRR's Zero Injury campaign. When SRR employees work a month without injuries that result in days away from work, the company presents a $500 check to a local charity selected by employees. SRR also donated $5,000 to the Augusta Technical College. That donation will help the college's foundation fund scholarships to help students obtain high school equivalency diplomas through the college's adult literacy program. Savannah River Nuclear Solutions donated $25,000 to the Aiken County Chapter of the American Red Cross. The money will be used to assist disaster victims.