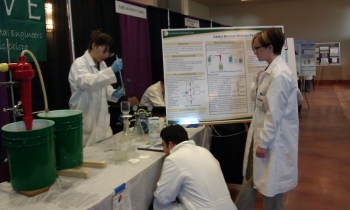 California Polytechnic State University students test output from cyclone treatment at the 2012 WERC IEDC.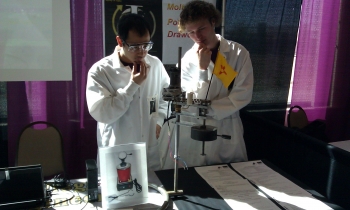 Contestants from the University of Idaho think it through at the 2012 WERC IEDC. The annual competition includes college students from universities worldwide, who showcase their engineering design solutions. Their solutions are judged by industry and academic professionals.
LAS CRUCES, N.M. – Carlsbad Field Office (CBFO) members Dr. Josef Sobieraj of Environmental Safety and Health and Steve Casey of the National TRU Program served as judges for the recent 2012 Waste-management Education and Research Consortium (WERC) International Environmental Design Contest (IEDC).  
"This annual event brings together industry, government and academia in search of environmental solutions," said Casey.
Held at New Mexico State University in Las Cruces since 1991, the contest draws hundreds of college students from throughout the United States and around the world. Students are evaluated by volunteer judges representing areas of commercial, industry, government and academia.
CBFO has been consistently involved with the contest since its inception. Years ago, Casey was a student participant. He has been a contest judge six times. This year marked the first time Sobieraj served as a judge in this competition, although he has been one in other science and engineering events.
Competition criteria require a balance of ingenuity, pragmatism, and leading edge technology for solving some of the most daunting problems facing our nation, Casey said. Student teams address design engineering basis, equipment and process selection, system testing and results, legal and health implications, economic analysis, quality assurance and public involvement.
Industry and government provided the 2012 design tasks which included the following: open design, allowing universities to demonstrate ongoing research; solar power array; treatment technology for water softening technology; product stewardship in the copper value chain; green reverse osmosis pretreatment; and micro-hydro power generation. Student teams considered a range of potential solutions, isolated and tested viable options, and designed solutions to the problems.
"I was impressed by the ingenuity of system designs and the detailed level of analysis. In many cases, these highly motivated students worked independently with minimal oversight and direction from their advisors," said Sobieraj. "Their talent and performance was recognized not only by judges, but also prospective employers," he added.  
Many universities use the contest as part of their capstone design courses. Students benefit by receiving constructive comments and feedback submitted by contest judges. 
The WERC IEDC program began in 1990 with a focus on environmental education and technology development. It was a cooperative effort between the University of New Mexico, New Mexico Institute of Mining and Technology, New Mexico State University, Sandia National Laboratories, Los Alamos National Laboratory, and DOE. 
Open task winners:
1st: University of California-Riverside for development of a storm drain oil filter
2nd: Louisiana State University for applied solutions to food production (hydroponic approach)
Combined task winners:
1st: University of Arkansas for a comprehensive approach to micro-hydro power
2nd: University of Idaho for water softening technology
Green technology pre-filtration winners:
1st: University of New Mexico, swept all scoring categories with ultra-filtration approach
2nd: Roger Williams University for multi-media filtration