Jim Kopotic and his daughter Lauren pause for a photo after a race that raised money for cancer research and treatment.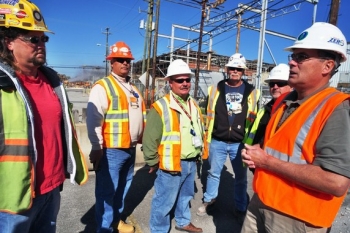 Jim (far right) talks with workers at the K-25 demolition site.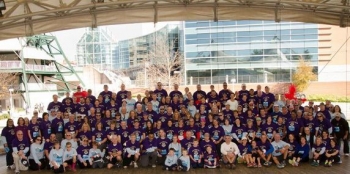 Jim's influence and inspiration led friends and family to form the largest team at this year's regional event.
OAK RIDGE, Tenn. – It's 7:51 a.m. on a Tuesday morning. A white, long-bed 4x4 Dodge Ram turns the corner, entering the parking lot. The rumble of the hemi-powered engine stops and the door opens as Jim Kopotic, the federal project director for the East Tennessee Technology Park, one of EM's primary cleanup sites in Oak Ridge, exits the cab. 
Jim, wearing his staple outfit — a short-sleeve plaid shirt, khakis and work boots — walks into a conference room filled with nearly 50 federal and contractor employees from all ranks for his weekly Integrated Project Team (IPT) meeting. As quickly as he enters the doorway, chatter turns to laughter. He warmly greets each person by name and shares amusing stories from the previous week as he shuffles through the room.
You see, Jim is that kind of character, a person who brightens a room and has never met a stranger. A leader who understands that people are a project's most important asset, Jim is skilled at making people want to do their best just because it's the right thing to do.
His motivation skills are evident to everyone who interacts with him. When he was assigned the K-25 Demolition Project in 2009, it was not performing well and faced cost and schedule challenges. Jim called a meeting, and he made a promise to be there for the team and turn the project around. 
Shortly after making that promise, Jim created an award to recognize workers who perform above expectation. The "Can Do" award's design is based on the insignia of the 305th Bombardment Group, established in January 1942, in which Jim's father served during World War II. The first "Can Do" award was given to Ernie Bradshaw, a union craft worker who was outperforming coworkers four to one. Jim invited Ernie to his IPT meeting and recognized him in front of his supervisors and peers. The idea stuck, and the "Can Do" award became a mechanism to reward the highest performers and commend them for outstanding work. Great performance would be highlighted, not overlooked, instantly impacting employees and the overall project.
"Jim created these awards to encourage everyone associated with the project. He is always focused on other people. His leadership style is to accept blame and share credit," said Karen Deacon, a project manager with Oak Ridge's EM program.
Guided by Jim's vision and passion for people and productivity, the project team has fulfilled Jim's promise and reversed the course of the project. The K-25 building demolition is scheduled for completion this month, well ahead of the current approved baseline schedule and cost, and morale is at an all-time high.
To team members and observers, Jim's energy and resolve appear limitless. He worked tirelessly and made sure the K-25 project is one of the site's most notable achievements, while taking the time to encourage coworkers. Despite challenges and obstacles, Jim always remained positive and found ways to keep the project progressing. 
Unfortunately, this year, Jim faces a new kind of adversity that tests his outlook and resolve like never before. During a doctor's visit in September, he was diagnosed with pancreatic cancer. It seemed impossible that the jovial man with the infectious laugh who roamed the hallways, lifted spirits, and pushed projects forward was in for the fight of his life.
"When I first found out, it was tough and I thought 'Oh man, this really puts a dent in my plans,'" said Kopotic. "How you deal with it is so important. Staying positive is easy to say, but it is much harder to do. The number of friends and coworkers who have written notes, mailed cards and sent texts every time I'm in the chair getting chemo makes it much easier." 
Jim's need to rely on his EM family for support is only equal to his EM family's need to support Jim in a special way. As people thought of ways to show encouragement, Heather Cloar, a federal contracting officer and coworker at DOE, started a team to run for Jim and raise money for cancer research and treatment at a regional event in Knoxville, Tenn. Heather invited people to sign up, and the response was overwhelming. Almost 190 coworkers, friends and family members signed up for Team "Can Do," a name that reflects Jim's approach and a belief in his strength to overcome. The race was yet another display of his ability to unite and inspire. The team won an award for being the largest team.
"This was a way to get people in one place to show our support for him," said Cloar. "We were searching for anything we could do, and the race sign-up started about the time he received his diagnosis."
As the race's opening shot was fired on Nov. 10, Team "Can Do," adorned in bright purple shirts emblazoned with the same logo that motivated workers to do their best, raced across the starting line to show love, honor, and respect for Jim.
"It was very humbling, I never imagined that many people would be involved," said Kopotic. "After the race, I looked around and thought, 'I'm a rich man, I'm a wealthy man.' Friends are what matter, that's your real legacy."
Karen Doughty, a program analyst with Oak Ridge's EM program, said, "Jim cares for everyone that works for him, and in turn, people want to do well for him. He is a wonderful leader, and he always wants to do the right thing. If you spend any time with him, you know he's special. Jim is a force, that's the best way to describe him." 
Doughty continued, "He has a special bond with everyone he meets because he truly cares. He continues to inspire everyone. He never complains, just pushes on." 
Jim is currently in the midst of intensive chemotherapy treatments, but unless his body just won't allow it, he's in his federal building office finding efficiencies and challenging people to get the job done. 
"My dad always said you are never defeated until you let yourself feel that way," said Kopotic. "I'm not going to give in. That's not the way I'm wired. I made a commitment to finish this project, and I want to see it through."