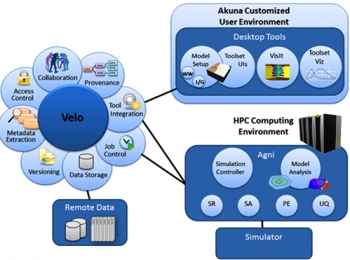 The Akuna customized model setup user environment contains NASA World Wind and LaGrit/Gridder in its toolset user interface. The High Performance Computing environment allows the user to do Single Run, Sensitivity Analysis, Parameter Estimation and Uncertainty Qualification.
WASHINGTON, D.C. – The Advanced Simulation Capability for Environmental Management (ASCEM) Project has reached a major milestone at record pace with the release of the research and development branch of the ASCEM toolset.
ASCEM is being tested and evaluated by initial users associated with EM's Hanford, Savannah River and Nevada National Security sites, and Lawrence Berkley National Laboratory. While interacting with the initial users, the multi-laboratory team will continue to further develop the community and regulatory code versions for release over the next few years.
"It is an amazing achievement by the ASCEM team to develop and release a next generation code in just a few years, and we look forward to user feedback from across the complex," said Kurt Gerdes, director of EM's Office of Soil and Groundwater Remediation.
Launched in 2010, ASCEM provides a state-of-the-art approach to predicting contaminant fate and transport. It takes advantage of and leverages high performance computing capabilities while providing a community platform for testing and integrating new process models as they evolve. The modular, open source model enables the development of risk-informed and cost-effective remediation approaches to achieve disposal solutions protective of human health and the environment.
The ASCEM Toolset release consists of Akuna (user interface), Amanzi (the simulator) and Agni (a set of tools for controlling the simulator). The user release also contains a set of tutorials and example problems from the Phase II demonstration to guide the new user though the ASCEM toolset capabilities.
If you are interested in being a user, please contact Justin Marble (Justin.marble@em.doe.gov) or Paul Dixon (p_dixon@lanl.gov). More information on ASCEM, including the fiscal year 2013 annual report, can be found here.