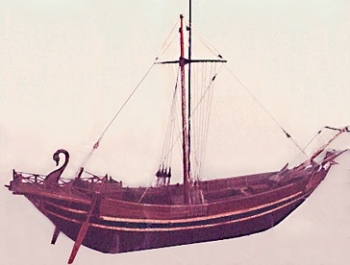 PNNL scientists are studying pieces of ancient Roman glass from 1,800-year-old shipwrecks and ruins to assist today's efforts to safely store nuclear waste.
One way to store nuclear waste safely is to turn it into durable glass through a process called vitrification. At PNNL, Denis Strachan, Joseph Ryan and others are helping explore how such a glass can withstand the test of time if stored in repositories deep underground. Glass dissolves so slowly that it's difficult to understand changes that might happen over thousands or a million years. Researchers want samples of old glass against which to test computer models that simulate nuclear waste stored for long periods of time. Scientists use these models to demonstrate that a glass will perform according to regulatory requirements. Until recently, the longest test on a piece of man-made, simulated nuclear waste glass available to researchers has been about 25 years. But now they have access to glass subjected to a 1,800-year-old "experiment" in the Mediterranean region.
Earlier this year, PNNL researchers worked with the University of Padua in Italy to obtain samples of glass from a 1,800-year-old shipwreck called the Iulia Felix in the northern Adriatic Sea. They also acquired dry glass dug up from a 1,800-year-old Roman villa nearby in the town of Aquileia. While the
glass samples from the sea do not represent those likely to be found in a repository, they do provide researchers with important information about how glass generally dissolves. The samples from the Roman villa more closely represent the conditions under which nuclear waste would be stored long term. The PNNL researchers are also collaborating with French scientists to study a third glass sample of about the same age but from a shipwreck off the southern coast of France.
The project is part of an international collaboration to study how glass dissolves and involves researchers from six nations.
The ship: Iulia Felix shipwrecked 6 miles (15 km) off the coast of Grado in Adriatic Sea about 1,800 years ago. It was a merchant ship called a corbita
commonly used in Roman times for long distance trading voyages. This voyage contained a barrel of glass for recycling and many containers holding oils and spices. The Iulia Felix measured between about 45 to 55 feet long (15 and 18 meters) and 15 to 20 feet wide (5-6 meters). Researchers believe the recycled glass fragments may have been destined for the port of Aquileia, known to have been an important center of Roman glass making.
The instruments: At EMSL, the researchers will be using some of the most sophisticated analytical instruments to give them the information needed to properly interpret the results of these 1,800-year long experiments. In addition, these analytical methods have been unavailable to the archaeologists, making the results important not only to the nuclear waste management field but to archaeology in general.
The funding: Two offices within the Department of Energy -- Nuclear Energy and Environmental Management -- are funding an international study on glass corrosion. The ancient glass study involves researchers from the United States, France, and Italy. Researchers within the glass corrosion project also hail from the United Kingdom, Belgium and Japan.