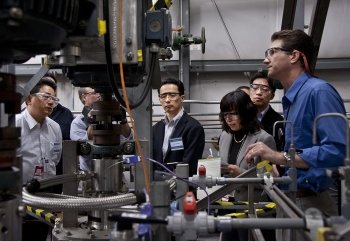 Savannah River National Laboratory scientist Dave Herman (right) discusses waste management equipment during a visit by Japanese scientists involved in the cleanup at Japan's Fukushima nuclear plant.
As representatives from Tokyo Electric Power Company visited Aiken, they discussed the efforts they are making to help remediate the damage caused by the worst nuclear accident since the Chernobyl explosion in April 1986.
On March 11, 2011, a powerful earthquake hit northeast Japan and the resulting tsunami killed almost 20,000 people. The combination of natural disasters caused meltdowns at the Fukushima Daiichi nuclear plant.