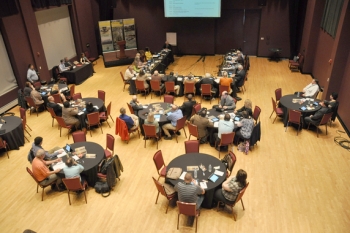 Participants in a previous EM Site-Specific Advisory Board meeting.
The Department will host its first EM Site-Specific Advisory Board (EM SSAB) Chairs meeting via webinar on Thursday, April 25, 2013, from 1 to 5:30 p.m. Eastern Daylight Time.
The purpose of the webinar is to provide an opportunity for EM SSAB Chairs and members of their local boards to receive presentations from EM managers and discuss crosscutting issues that impact sites and local stakeholders throughout the EM complex.  Any interested stakeholders or members of the public who would like to observe the proceedings are encouraged to attend. Registration is required. Please register for this event here.
The EM SSAB was established in 1994 to involve stakeholders more directly in EM cleanup decisions. While only one Federal Advisory Committee Act-chartered EM SSAB exists, eight local boards under the EM SSAB umbrella charter have been organized at Hanford in Washington State, Idaho, Northern New Mexico, Nevada, Oak Ridge in Tennessee, Paducah in Kentucky, Portsmouth in Ohio and Savannah River in South Carolina. The Chairs of these eight local boards hold semi-annual public meetings throughout the EM complex that facilitate exchanges between members of the EM SSAB, DOE managers and interested organizations and citizens.
The EM SSAB Chairs webinar on April 25 has been scheduled in place of the Chairs' regularly scheduled Spring Meeting in an effort to curtail costs in a challenging budget environment.