EM Principal Deputy Assistant Secretary Tracy Mustin, second from right, speaks with members of the Environmental Management Advisory Board this week as EM Deputy Assistant Secretary, Safety, Security and Quality Programs, Matthew Moury, second from left, listens.
WASHINGTON, D.C. – EM Principal Deputy Assistant Secretary Tracy Mustin this week sought guidance from the Environmental Management Advisory Board (EMAB) on several topics, including optimizing resources for EM's technology challenges.
"We have the opportunity to benefit from your expertise and we look forward to working with you," Mustin said during the meeting with the independent, volunteer advisory board that offers EM advice on complex-wide issues involved in the cleanup. "We really do appreciate the insights and the inputs and guidance you all provide to us as we tackle some really important challenges in the program."
EMAB provides reports and recommendations on planning, policy development and budgeting to enhance management of EM's environmental challenges.
Mustin had also joined EMAB for its meeting in Idaho Falls this past spring. There, the board marked its 20th year of service to EM.
In addition to board recommendations on technology issues, Mustin told the EMAB members that she and EM Senior Advisor David Huizenga spent time during the past year and a half listening to members of the EM workforce to learn how EM can improve as an employer.
Noting the range of the board members' expertise in areas including the private sector and state government, Mustin asked for input on ways EM can increase its effectiveness, find opportunities to motivate employees and recognize their work to "ensure we are getting the best from everybody."

Members of EMAB gather for a photo with EM Principal Deputy Assistant Secretary Tracy Mustin, seventh from right, and EMAB Designated Federal Officer Kristen Ellis, eighth from right.
Also during the meeting, Mustin briefed the board on significant EM achievements in fiscal year 2012.
"We had a lot of good things happen to us in fiscal year 2012 due to the efforts of a great team of people at headquarters and in the field, and contractors," she said.
Mustin pointed to F Area, the first reactor area at the 586-square-mile Hanford site to be fully remediated, as well as the closure of two Cold War hazardous waste tanks at the Savannah River Site. She noted that EM's American Recovery and Reinvestment Act Program reduced the footprint of the nation's total Cold War legacy by 74 percent.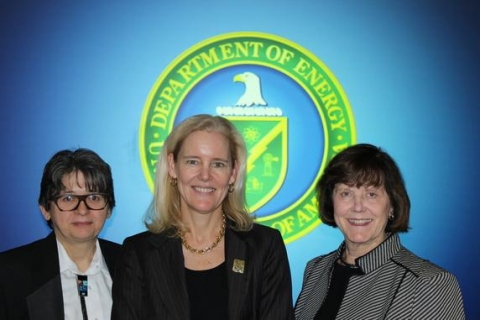 EM Principal Deputy Assistant Secretary Tracy Mustin, center, stands for a photo with the two newest members of EMAB: Dr. Kimberlee Kearfott, left, and Dr. Carolyn L. Huntoon.
At the meeting's start, Mustin welcomed the board's newest member, Dr. Kimberlee Kearfott. She is a professor of nuclear engineering and radiological sciences, biomedical engineering, a professor for the applied physics program, and an adjunct professor of radiology at the University of Michigan's Department of Nuclear Engineering and Radiological Sciences.
Earlier this year, Dr. Carolyn L. Huntoon joined the board. She is an independent consultant with expertise in the fields of energy and aerospace. Huntoon worked in federal government for more than 30 years, serving at the National Aeronautics and Space Administration and at DOE as EM's Assistant Secretary.