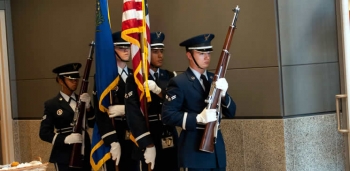 Color Guard | National Day of Remembrance - October 25, 2013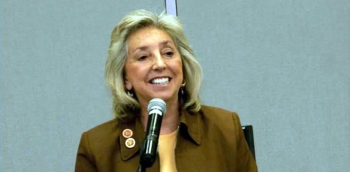 US Representative Dina Titus (1st Congressional District of Nevada) | National Day of Remembrance - October 25, 2013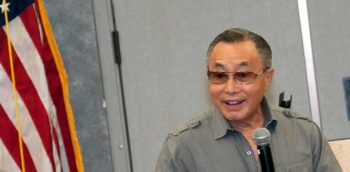 Mr. Al Tseu | National Day of Remembrance - October 25, 2013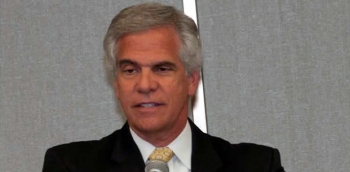 Mr. Glenn Podonsky, Chief Health Safety and Security Officer | National Day of Remembrance - October 25, 2013
On Friday, October 25th 2013, HSS honored over 150 nuclear weapons program workers at the National Atomic Testing Museum (NATM). Hosted by NATM Director Allan Palmer, the event was conducted in recognition of the US Senate Resolution which designates October 30th as a National Day of Remembrance to recognize the Department of Energy nuclear weapons workers for their contribution, service and sacrifice for the defense of the United States..
Mr. Glenn Podonsky, Chief Health Safety and Security Officer, served as the key note speaker as he joined Kevin Fitzgerald of the Cold War Patriots, Las Vegas Mayor Carolyn Goodman, and US Representative Dina Titus (1st Congressional District of Nevada) in thanking the "atomic veterans" for their service to the United States. The atomic veterans were intrigued by a brief account of the history of Oak Ridge presented by Ray Smith, the Y-12 Oak Ridge National Laboratory Historian. Those in attendance also enjoyed the extraordinary story of Al Tseu, who explained how he parachuted onto ground zero of an atomic test as a paratrooper for the 82nd Airborne Division. The event ended with words of thanks and gratitude from Glenn Podonsky who presented a video dedicated to the patriotism of all those who served as nuclear weapons program workers.
On October 30th, please take a moment to reflect upon the fifth annual National Day of Remembrance and thank those who have served this country proudly as nuclear weapons program workers.