Under the Energy Efficiency and Conservation Block Grant (EECBG) program, the U.S. Department of Energy (DOE) provided block grants to local governments to create jobs through clean energy projects. This program was funded under the 2009 American Reinvestment and Recovery Act (Recovery Act) and represents the largest nationwide direct investment in energy efficiency and renewable energy technologies at the community level in U.S. history. This unprecedented $3.2 billion investment rapidly increased the number of communities directly engaged with DOE on programs that increase renewable energy capacity, technical knowledge, and deployment of energy efficiency projects at the local level.
You can find the following information about the EECBG program:
The goal of the EECBG program is to assist U.S. cities, counties, states, U.S. territories, and Indian tribes to develop, promote, implement, and manage energy efficiency and conservation projects and programs designed to:
Reduce fossil fuel emissions
Reduce the total energy use of the eligible entities
Improve energy efficiency in the transportation, building, and other appropriate sectors
Create and retain jobs.
Program Accomplishments (as of Sept. 30, 2013)
Consistently rated a Top-15-job creating program of the Recovery Act from January 2011 to September 2013
Performed energy upgrades of approximately 86,000 buildings, covering a total area of 699 million square-feet
Installed 9,541 solar systems, with a total capacity of 176 megawatts
Installed more than 278,000 energy-efficient traffic signals
Installed 197,000 energy-efficient streetlights
Timed traffic signals on 4,666 street lane miles of road.
Spending by Activity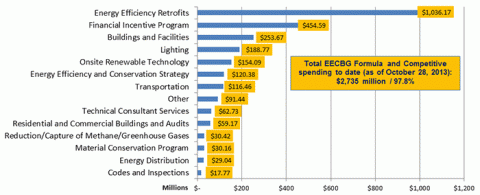 As of October 2013, EECBG grant recipients had spent $2.7 billion, or 97.8% of allocated funds.
Jobs Created or Retained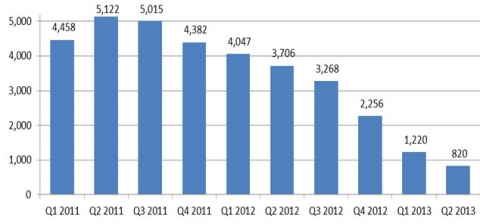 Altogether, EECBG created or retained 1,891 full-time-equivalent jobs.
Program Funding
The funding for the EECBG program under the Recovery Act totaled $3.2 billion. Of this amount, approximately $2.7 billion was awarded through formula grants. In addition, approximately $454 million was allocated through competitive grants, which was awarded through DOE funding opportunity announcements.
EECBG Funding by Activity
(millions of dollars)
| Formula Grants | Better Buildings | General Innovation Fund | Technical Assistance | Total |
| --- | --- | --- | --- | --- |
| $2,709 | $390 | $62.7 | $31.3 | $3,193.2 |
EECBG Funding to Recipients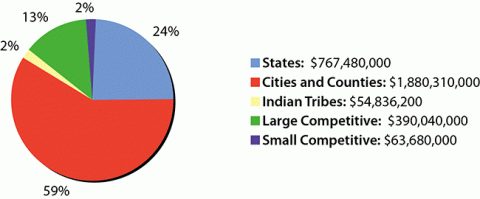 Additional Resources
DOE's Office of Energy Efficiency and Renewable Energy (EERE) has informational resources, programs, and initiatives available. Here are just a few of the resources you can take advantage of:
DOE's Better Buildings Challenge and Better Buildings Alliance are two national voluntary leadership initiatives that support commercial and industrial building owners by providing technical assistance and proven solutions to energy efficiency. For more information on these two programs, please visit the Better Buildings website.

The Weatherization and Intergovernmental Programs Office Technical Assistance Program's State and Local Solution Center can help you to make connections through the peer exchange hub, allow you to view upcoming and past webcasts, and assist you in applying for technical assistance. For more information, please visit the State and Local Solution Center.

EERE's website offers a repository of energy efficiency and renewable energy technologies and market-based solutions. For more information, please visit the EERE website.

DOE also publishes an online list of EECBG projects that you can search by location or topic to see what other communities achieved with their grants. You can also stay connected to the world of energy efficiency via social media by "liking" EERE and DOE on Facebook and "following" us on Twitter.

Finally, local governments are strongly encouraged to engage with their State Energy Offices (SEO) to explore potential partnership opportunities as well as learn about available resources and proven energy efficiency strategies and energy smart policies at the federal, state, and regional level. For more information on the role of SEOs, please visit the National Association of State Energy Officials website.