Through the 2009 American Recovery and Reinvestment Act (Recovery Act), the U.S. Department of Energy's (DOE's) Energy Efficiency and Conservation Block Grant (EECBG) Program provided $3.2 billion in block grants to cities, communities, states, U.S. territories, and Indian tribes to develop, promote, implement, and manage energy efficiency and conservation projects that ultimately created jobs. The EECBG program represents the largest nationwide direct investment in energy efficiency and renewable energy technologies at the community level in U.S. history, rapidly increasing the number of communities directly engaged with DOE on programs that increased renewable energy capacity, technical knowledge, and deployment of energy efficiency projects at the local level. 
Frequently Asked Questions on EECBG Financing Program Compliance and Reporting 
Find answers to frequently asked questions. 
EECBG Financing Programs After Grant Retirement
Find guidance to help you manage the federal funds in your financing programs.
EECBG Projects by State 
Find information on local, community-level EECBG projects using this interactive U.S. map.
DOE Guidance Documents 
Find DOE guidance documents for EECBG. 
Program Accomplishments (as of Sept. 30, 2013)
Consistently rated a Top-15-job creating program of the Recovery Act from January 2011 to September 2013
Performed energy upgrades of approximately 86,000 buildings, covering a total area of 699 million square-feet
Installed 9,541 solar systems, with a total capacity of 176 megawatts
Installed more than 278,000 energy-efficient traffic signals
Installed 197,000 energy-efficient streetlights
Timed traffic signals on 4,666 street lane miles of road.
Spending by Activity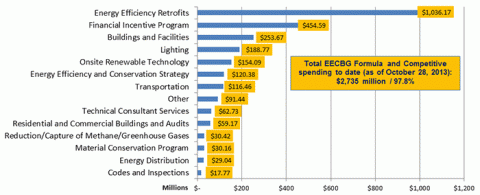 As of October 2013, EECBG grant recipients had spent $2.7 billion, or 97.8% of allocated funds.
Jobs Created or Retained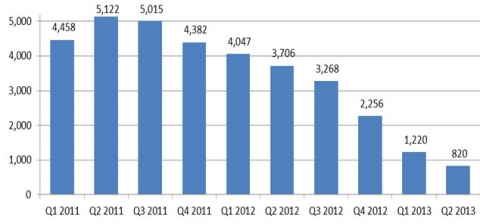 Altogether, EECBG created or retained 1,891 full-time-equivalent jobs.
Program Funding
Of the $3.2 billion in Recovery Act funding the EECBG Program provided, approximately $2.7 billion was awarded through formula grants and approximately $454 million was allocated through competitive grants, which were awarded through DOE funding opportunity announcements.
EECBG Funding by Activity
(millions of dollars)
| Formula Grants | Better Buildings | General Innovation Fund | Technical Assistance | Total |
| --- | --- | --- | --- | --- |
| $2,709 | $390 | $62.7 | $31.3 | $3,193.2 |
EECBG Funding to Recipients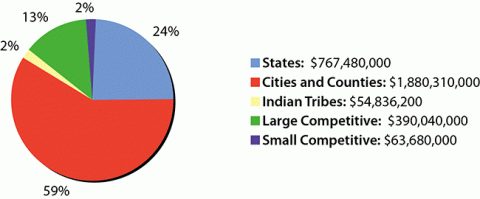 Program Evaluation 
The EECBG National Evaluation is an independent third-party evaluation with a purpose to quantify the principal outcomes achieved by the program in terms of: (1) energy and cost savings, (2) gross carbon emissions reduction, and (3) direct and indirect job creation. 
The evaluation examines outcomes achieved during the 2009 through 2011 program years for a subset of recipients implementing the 14 eligible activities in the EECBG Program. Findings from the evaluation of program activities will be combined to yield savings estimates for those broad program types that, in combination, represented approximately 80% of EECBG funding during the study period. The final report is expected 3rd Quarter Fiscal Year 15.
Additional Resources