The information below will help you manage successful Energy Efficiency and Conservation Block Grant (EECBG) financing programs:
July 2014 Letter to EECBG Financing Program Managers. This document:

Clarifies DOE's ongoing role in monitoring, reporting and oversight of financing programs.
Announces the change from quarterly to annual reporting.
Clarifies grantee reporting and compliance responsibilities while financing programs are in place.
Explains the key points of all relevant EECBG guidance with frequently asked questions.
Explains how and when a grantee can repurpose funds.

New Annual Reporting Template (fillable PDF). This document provides instructions for financing programs using federal funds. Please see the timeframe for EECBG annual reporting in the graphic below: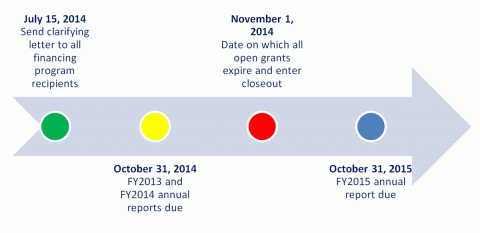 The July 2014 Letter to EECBG Financing Program Managers provides a consolidation of all relevant guidance for financing programs referenced in the appendices listed below. Download the appendices.

Appendix 1:  EECBG Financing Program Annual Report
Appendix 2:  EECBG Program Notice 09-002D Guidance for Energy Efficiency and Conservation Block Grant Grantees on Financing Programs, revised October 17, 2012
Appendix 3:  EECBG NEPA Template
Appendix 4:  NEPA Categorical Exclusions (Cx)
Appendix 5:  Davis-Bacon Act (DBA) Desk Guide
Appendix 6:  Davis Bacon Semi-Annual Report Form
Appendix 7:  Historic Preservation Report
Appendix 8:  Buy American Desk Guide
Appendix 9:  EECBG 11-002 Clarification of Ten Percent Limitation on Use of Funds for Administrative Expenses, effective July 28, 2011
Appendix 10:  SEP and EECBG 13-001 Guidance for Returning Interest Earned, effective March 21, 2013
Appendix 11a:  Instructions for Returning Funds to ASAP
Appendix 11b: ASAP Return Payment Procedures
Appendix 12:  Frequently Asked Questions
Appendix 13:  EECBG 11-001 Guidance on Basic Best Practices in Management of Energy Performance in Buildings, effective January 21, 2011
Appendix 14:  EECBG 10-07B Recovery Act Reporting Requirements, effective September 17, 2010

Appendix 14 Attachment: EECBG 10-07B Reporting Guidance Process Metric List

Appendix 15:  EECBG 10-011 Recovery Act Formula Grant Guidance, effective April 21, 2010
Appendix 16:  EECBG 10-014 Guidance for EECBG Recipients on Procurement, effective June 23, 2010
Appendix 17:  EECBG 10-021 Guidance for Eligibility of Activities, effective January 4, 2011A13.