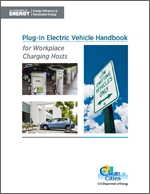 To determine if workplace charging is right for your organization, use the employer resources to learn more about PEVs and charging stations. The PEV Handbook for Workplace Charging Hosts is particularly helpful for employers deciding if and how to install charging stations to ensure a successful workplace charging program.
PEVs and Charging Stations at the Workplace
Is Workplace Charging Right for Your Workplace?
Installing Workplace Charging
Managing Workplace Charging