The National Idling Reduction Network brings together trucking and transit companies; railroads; ports; equipment manufacturers; Federal, state, and local government agencies (including regulators); nonprofit organizations; and national research laboratories to identify consistent, workable solutions to heavy-vehicle idling for the entire United States. Below is the most recent issue; the archives are available on the Archives page.
Subscribe to the Newsletter
To receive NIRNN by e-mail monthly, please e-mail Patricia Weikersheimer or enter your email in the box on the right-hand side of the page. If you have news you believe would be of interest to newsletter readers, please send it to idlingreduction@anl.gov
January 2015 National Idling Reduction Network News: From the Editor
Wow, That's a Lot of Money!
Recently, my curiosity was piqued when I wondered how much funding had been spent on idling reduction projects since 2004, when the National Idling Reduction Network News began. As I dug into the newsletter archives and a database kindly supplied by the U.S. Environmental Protection Agency (EPA), I was certainly surprised to see that over $211 million had supported a variety of projects. These projects included buying cab heaters and auxiliary power units (APUs) for trucks, heaters for school buses, and start-stop devices for locomotives; building truck stop electrification (TSE) sites; funding alternative maritime power sites for ships to plug in; supporting centralized HVAC at airports for planes at their gates; and creating educational materials.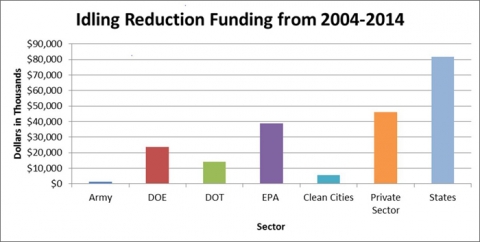 In searching for projects, I found that some states were particularly active in running programs to help truckers cover part of the cost of APUs. The private sector, such as the Electric Power Research Institute, focused on buying plug-in hybrid equipment for medium- and heavy-duty trucks. EPA's Diesel Emissions Reduction Act (DERA) funding supported a large number and variety of projects, while the U.S. Department of Energy (DOE) provided American Recovery and Reinvestment Act funding to construct more than 50 TSE sites.
What I counted as an eligible project — one that only addressed idling reduction — tended to limit my total number of projects. For example, the graph above doesn't show some DERA projects that bought diesel oxidation catalysts along with APUs because there was no way for me to separate how much money went to each type of equipment.
The funding table behind the chart is also incomplete because I wasn't able to find out if, or how much, awardees contributed in cost share to many projects. While we list solicitations for funding and awards at the beginning of each newsletter, we don't always know when an award was made or other relevant details. That's another reason that $211 million may actually be low.
So where does that leave us? Counting up what we know for sure, we came up with a total of $211 million over 10 years. That's over $20 million for idling reduction on average every year, a goodly sum indeed.
Terry M. Levinson, Editor
Energetics Incorporated
tlevinson@energetics.com
Patricia Weikersheimer, Writer
Argonne National Laboratory
pweikersheimer@anl.gov
Solicitations for Funding and Awards
Program (with link to website) — Organization — Funding Amount — Due Date (Information new since last month in boldface.)
Deadline in Chronological Order
First Come, First Served
Rolling Deadline Until Funds Are Awarded
Reports and Other Resources of Interest
Upcoming Meetings and Events
Name of meeting [with Link to Website] Date (Location) (Information new since last month in boldface.)
Education, Outreach, and Campaigns
But They Can't Even Drive Yet!
Last fall, the Yellowstone-Teton Clean Energy Coalition provided a group of Teton Science School 7th graders a half-day program focused on the effects of idling. The students spent 15 minutes identifying, and measuring the length of, idling incidents at a post office, a grocery store, and a fast-food drive-through. Back in the classroom, they entered their data into a preprogrammed spreadsheet to calculate the cumulative fuel and money wasted, and greenhouse gas emissions produced, over the 45-minute period. The students were then asked to imagine this scenario scaled up countywide, statewide, and nationwide.
Children are not drivers, of course, but they can be excellent information ambassadors. By educating their parents and other adults, they can inspire behavioral shifts. This effort is part of a larger initiative by the coalition to reduce idling in the community using the IdleBox toolkit. For more information, please see the Clean Cities blog.
Other News of Interest
Late in December, the Washington Post published a blog post, "The Biggest Winter Energy Myth: That You Need to Idle Your Car Before Driving," about how some drivers still believe it's important to warm up their car engines in winter. Overwhelming reader feedback, some of it in disagreement, led to a follow-up blog post, "This Is Why People Still Think They Should Idle Their Cars in Winter."
Many commenters said that they idled their engines not to warm up the engine but to warm up the interior, either to defrost windows or for their own comfort. Obviously, safety is paramount. But drivers can still be mindful about idling. Idling to defrost windows makes sense. However, idling to make the cabin toasty makes less sense since cars warm up more quickly by being driven than by idling. Of course, idling vehicles also generate emissions and get 0 mpg.
As "Car Talk" hosts Tom and Ray Magliozzi put it in a 2008 column, "With modern cars, all you're doing with a long warm-up is wasting gas, increasing pollution, [and] raising the temperature of the planet. . . . The proper procedure is to start the car. If it starts and keeps running, put it in drive and go. Go gently."
To see other recent coverage of the topic, see the Car Care Council's "To Idle or Not To Idle, That Is the Question," Fleet Owner's "Winter Does Not Have To Mean Idling," Treehugger's "Debunking a Winter Myth: No Need To Idle Your Car More Than 30 Seconds Before Driving," and Scientific American's "Brrrrrr — It's Cold Outside! Taking a Look at Winter Car Idling."