The National Idling Reduction Network brings together trucking and transit companies; railroads; ports; equipment manufacturers; Federal, state, and local government agencies (including regulators); nonprofit organizations; and national research laboratories to identify consistent, workable solutions to heavy-vehicle idling for the entire United States. Below is the most recent issue; the archives are available on the Archives page.
Subscribe to the Newsletter
To receive NIRNN by e-mail monthly, please e-mail Patricia Weikersheimer or enter your email in the box on the right-hand side of the page. If you have news you believe would be of interest to newsletter readers, please send it to idlingreduction@anl.gov
March 2015 National Idling Reduction Network News: From the Editor
SmartWay Partners Cut Idling Significantly
Great ideas sometimes take years to come to fruition. While both DOE's Argonne National Laboratory and the U.S. Environmental Protection Agency had been working on idling reduction for years, their paths didn't come together until the National Idling Reduction Planning Conference in 2004. The conference, which was organized by DOE, Argonne, EPA, the U.S. Army, the U.S. Department of Transportation, and the New York State Energy Research and Development Authority, resulted in this newsletter, as well as many other long-standing partnerships. One of the key outcomes was building interest in EPA's SmartWay Transport Partnership, which the agency had announced only three months before the 2004 conference.
Since its launch over 10 years ago, SmartWay has made great strides in reducing carbon emissions and fuel use throughout the transportation supply chain. It counts savings of 51.6 million tons of CO2, 738,000 tons of NOx, and 37,000 tons of PM. From only 37 partners in 2004, SmartWay has grown to over 3,000 truck, rail, multimodal, logistics, and affiliate partners. SmartWay partners have also saved 120.7 million barrels of oil, which is equivalent to taking 10 million cars off the road for an entire year.
One of the tenets of SmartWay is idling reduction. To share its results, EPA publishes the quarterly Trends, Indicators, and Partner Statistics (TIPS), some of which show interesting patterns in idling reduction. For example, this graph from the TIPS site shows how the SmartWay Partners have reduced their idling from 2009 to 2014.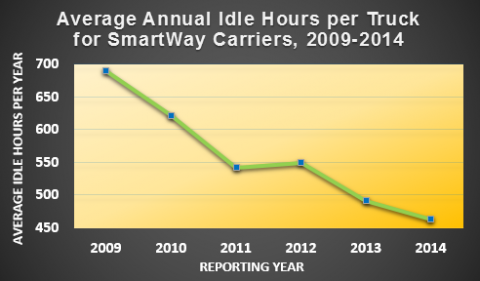 Source: U.S. EPA
In addition, SmartWay lists EPA-verified idling reduction technologies on its website. More information about the range of SmartWay activities is available on EPA's website.
Terry M. Levinson, Editor
Energetics Incorporated
tlevinson@energetics.com
Patricia Weikersheimer, Writer
Argonne National Laboratory
pweikersheimer@anl.gov
Solicitations for Funding and Awards
Program (with link to website) — Organization — Funding Amount — Due Date (Information new since last month in boldface.)
Deadline in Chronological Order
First Come, First Served
Rolling Deadline Until Funds Are Awarded
Regulatory
White House EO: Reduce Emissions from Federal Fleet Vehicles
On March 19, President Obama issued an Executive Order (EO), Planning for Federal Sustainability in the Next Decade. The EO covers a range of activities, from water use to acquisitions management, to improve efficiency in Federal operations. One of the mandates for federal agencies that operate at least 20 motor vehicles is to reduce per-mile greenhouse gas emissions across their fleets. Key goals in this area are reducing emissions levels, relative to fiscal year (FY) 2014, by at least 4% by the end of FY 2017, at least 15% by the end of FY 2021, and at least 30% by the end of FY 2025. Please go to the White House's Press Office website for more information.
EPA Finalizes the SIP Requirements Rule for Ground-Level Ozone
The U.S. EPA has finalized its State Implementation Plan (SIP) Requirements Rule. This Rule sets requirements that state, tribal, and local air-quality management agencies must meet as they develop implementation plans for areas that exceed the 2008 National Ambient Air Quality Standards (NAAQS) for ground-level ozone (0.075 ppm). (Some states include idling reduction regulations in their SIPs so that enforcement can be done at the Federal level. EPA's Region 1 has often enforced Massachusetts' 5-minute idling law.) More information is available in EPA's fact sheet on the Rule.
Awards and Recognition
Awardee — Source of Award — Purpose of Award — Award Amount
American Lung Association of the Upper Midwest — U.S. EPA — Installation of APUs on locomotive switch engines and replacement of 12 diesel refuse haulers with compressed natural gas (CNG) haulers — $626,419.

Colorado Department of Public Health and Environment — U.S. EPA — Retrofit of 36 school buses with devices to reduce soot and idling — $155,888.

Idaho Department of Environmental Quality — U.S. EPA — Retrofit 24 school buses with idle reduction devices — $79,000.

Leonardo Academy — U.S. EPA — Retrofit of 5 trucks, 5 buses, and 2 excavators with technology to cut soot and reduce idling; replacement of 8 long-haul trucks and 3 refuse haulers with vehicles that run on CNG; replacement of 14 long-haul trucks and 2 school buses; and repower of 1 crusher — $900,000.

North Central Texas Council of Governments — U.S. EPA — Installation of truck stop electrification equipment at four trucking terminals — $300,700.
Reports and Other Resources of Interest
Air Heater Systems for Expedite Cargo Vans (Expediters Online)

American Idle: Running in Place (Green Ninja)

Engines for Change: From Cell Phones to Sodas, How New Truck Standards Can Improve the Way America Ships Goods (Union of Concerned Scientists)

Finding More Miles in Today's Fuels (Work Truck Magazine)

Keeping Up with Truck Idling Penalties (Expediters Online)

The Rise of ePTO Systems for Utility Trucks (Utility Fleet Professional)

Triangle Clean Cities Coalition Works to Reduce Idling (Clean Cities TV)
Upcoming Meetings and Events
Name of meeting [with Link to Website] Date (Location) (Information new since last month in boldface.)
Manufacturers' News
Thermo King Launches Truck-Parking App
Thermo King has just launched a mobile-device app that points truck drivers to overnight parking spots available at its dealers. According to Transport Topics, truckers are charged a "nominal fee" for overnight parking, and longer-term parking is also available. Truckers need not be equipped with a Thermo King unit to use the parking service. More information is available at Transport Topics.
Cummins Onan's Natural Gas APU
Cummins Onan is offering its 5.5-kW generator set as an auxiliary power unit for natural gas vehicles. Compressed natural gas (CNG)-fueled, the Series 5500 NG gen-set provides single-phase 120/240-volt electric power and optional hydraulic power for utility trucks, food trucks, and other CNG-fueled commercial vehicles. More information is available at the Cummins website.
Legal Troubles for Espar
Espar, a seller of commercial-vehicle heaters, has pleaded guilty to participating in a price-fixing scheme, according to the U.S. Department of Justice (DOJ). The plea agreement is subject to court approval, and the other companies involved were not identified. Espar is scheduled to be sentenced on June 5, 2015.
In a press release, Espar announced that it will "officially assume the Eberspaecher name in the marketplace, while still maintaining 'Espar' as a legal business entity."
For more information, please see the DOJ press release.
Enforcement
NYC: Bill Proposes To Pay Citizens for Video Evidence of Idling Vehicles
New York City Council members Helen Rosenthal and Donovan Richards have introduced a bill that would allow citizens to submit video footage of vehicles idling longer than permitted by law. When a civil penalty results, the citizen who submitted the footage could receive a financial reward equivalent to half the penalty amount. The bill would also increase the penalty for a first violation by about 50%.
Before participating, "citizen enforcers" would be required to take training through the city's Department of Environmental Protection. The bill was referred to the Council's Committee on Environmental Protection. For a summary of the bill, please see the New York City Council website.
Other News of Interest
NPL Construction Saves with Idling Reduction
NPL Construction Company, a pipeline construction company, saved more than $187,000 in fuel in six months through idle reduction and the use of telematics, according to a story in Work Truck Online. The company tracked and reported on unnecessary idling and issued monthly progress reports, newsletters, and biweekly educational outreach materials (signs and posters) to increase and maintain awareness of the importance of reducing idling.
NPL, which is headquartered in Phoenix, Arizona, has 2,400 vehicles that travel more than 32 million miles annually. To read more, please go to Work Truck Online.