The National Idling Reduction Network brings together trucking and transit companies; railroads; ports; equipment manufacturers; Federal, state, and local government agencies (including regulators); nonprofit organizations; and national research laboratories to identify consistent, workable solutions to vehicle idling for the entire United States. Below is the most recent issue; the archives are available on the Archives page.
Subscribe to the Newsletter
To receive NIRNN by e-mail monthly, please e-mail Patricia Weikersheimer or enter your email in the box on the right-hand side of the page. If you have news you believe would be of interest to newsletter readers, please send it to idlingreduction@anl.gov
May 2016 National Idling Reduction Network News: From the Editor
A Way To Put Your Idle Summer Time To Work
While summer may be the most carefree time of year, it's a good time to do your homework on your local schools' anti-idling programs. Such programs are important because emissions from idling school buses (and parents' cars during drop off and pick up) are particularly harmful to children, whose lungs are still developing. From an economic perspective, fuel represents a significant operational cost for most school bus fleets, and reducing fuel costs is a top budget priority. Let us not forget that idling = 0 mpg.
If your local schools don't have anti-idling programs, you can get ideas about how others have implemented them by searching the internet for "school bus anti-idling programs." The Clean Cities YouTube Channel and others have a considerable number of videos on school bus idling that show programs around the country.
Another resource is the Clean School Bus USA program of the U.S. Environmental Protection Agency (EPA). It gives an overview of the issues associated with emissions from school buses, suggests idling reduction measures, and suggests replacement schedules for older buses. On occasion, EPA has offered Diesel Emissions Reduction Act (DERA) funding for competitive solicitations to help school districts buy idling reduction equipment for their school buses. In the past, DERA funding has also paid the incremental cost of replacing old buses, upgrading buses with newer engines, or replacing them with ones that use cleaner fuels.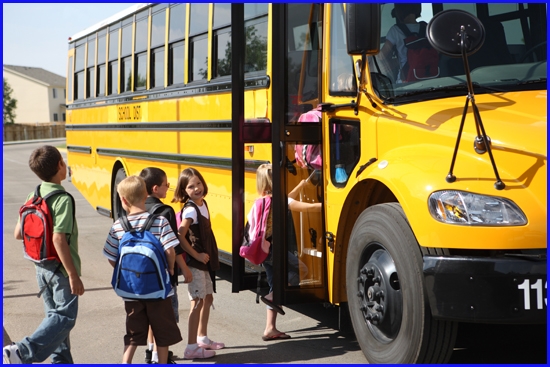 (Shutterstock 14675596)
The problem of idling at schools is not limited to school buses, of course. Parents and others dropping off and picking up children may also be found idling their vehicles—sometimes for 15 minutes or longer! According to a draft report from Argonne National Laboratory, if a driver eliminates just 6 minutes of unnecessary idling per day, the annual fuel savings will total about 12 gallons. Multiply that by all of the school-related passenger car idling in your neighborhood, and the fuel use and emissions truly add up. (For online resources that address both passenger car and school bus idling, see the U.S. EPA Region 8 Idle Free Schools Toolkit and Idle-Free VT.)
Finally, the U.S. Department of Energy's (DOE) Clean Cities program has a number of coalitions that have run successful programs to reduce vehicle idling at schools. The Utah Clean Cities Coalition helped set up a successful idling reduction program that trained more than 3,000 school bus drivers statewide to reduce idling. MotorWeek ran a feature on the Alamo Area Clean Cities Coalition in San Antonio about its effort to promote school bus idling reduction. Likewise, the Clean Cities Central Oklahoma report on its project to quantify school bus idling is very informative.
Please let us know about your school-related idling reduction efforts so that we can feature them in future issues of this newsletter.
Terry M. Levinson, Editor
Allegheny Science & Technology
tlevinson@alleghenyst.com
Patricia Weikersheimer, Writer
Argonne National Laboratory
pweikersheimer@anl.gov
Solicitations for Funding and Awards
Program (with link to website) — Organization — Funding Amount — Due Date  (Information new since last month in boldface.)
Deadline in Chronological Order
First Come, First Served
Rolling Deadline Until Funds Are Awarded
Regulatory News
New Idling Restrictions in Texas
The City of San Antonio, Texas, is considering an ordinance that would limit the idling of heavy-duty (>14,000 lb) gasoline- or diesel-powered vehicles. The proposed ordinance, based on the Texas Commission on Environmental Quality's Locally Enforced Motor Vehicle Idling Limitations rule, would limit the idling of these vehicles to 5 minutes. The customary exemptions, including those for emergency vehicles, would apply.
Meanwhile, Bexar County, Texas, which includes the City of San Antonio, recently passed an idling rule for heavy-duty vehicles. According to The San Antonio Express-News, the County's environmental engineer, Andrew Winter, stated that "the county is taking an approach of educate first, civil penalties later, if necessary."
The actions being taken in Texas and elsewhere are in response to the U.S. EPA's new, more-stringent ozone standard, which limits ozone pollution to less than 70 parts per billion (ppb). (The previous limit was 75 ppb.) Jurisdictions are looking for ways to reduce ozone formation to remain in attainment status for the EPA's National Ambient Air Quality Standards (NAAQS). The consequences of nonattainment include potential loss of federal highway and transit funding and business investment.
To read the proposed San Antonio ordinance, please visit the City of San Antonio's Office of Sustainability website. News of Bexar County's rule is available at The San Antonio Express-News.
South Carolina Increases APU Weight Exemption
South Carolina Governor Nikki Haley has signed a bill that increases the weight exemption for idle reduction equipment on heavy-duty trucks. House Bill 4932, which addresses vehicle weights and lengths, increases the weight allowance from 440 lb to 550 lb. The change is effective immediately. To read the text of the bill as passed, please go to the website of the South Carolina legislature.
Awards and Recognition
Awardee — Source of Award — Purpose of Award — Award Amount
Brunswick City School District (Medina County, Ohio) — Ohio EPA — Replacement of 7 older school buses with model year 2016 school buses and the purchase of 61 direct-fired heaters for existing buses — $531,811.

Convoy Solutions, LLC (Idle Aire) (Clark, Hamilton, and Montgomery Counties, Ohio) — Ohio EPA — Installation of truck stop electrification (TSE) infrastructure at 2 locations on Interstate 70 and Interstate 75 in southwest Ohio — $336,000.

Rocky River City School District (Cuyahoga County, Ohio) — Ohio EPA — Replacement of 2 older school buses with model year 2016 school buses and the purchase of 19 direct-fired heaters for existing buses — $111,084.

South Coast Air Quality Management District (California) — CARB — Zero-emission drayage truck development and demonstration project (43 trucks) — $23.6 million.
Reports and Other Resources of Interest
FHWA Proposes New Performance Measures to Reduce Congestion on the Nation's Highways (U.S. Department of Transportation, Federal Highway Administration)

State of the Air 2016 (American Lung Association)

Transportation Forecast: Medium and Heavy Duty Vehicles: Global Forecasts of Medium and Heavy Duty Trucks and Buses by Region and Powertrain: 2016–2035 (Navigant Research)

Transportation Outlook: 2025 to 2050: How Connectivity, Autonomous Technology, On-Demand Mobility, and Vehicle Electrification Will Transform Global Passenger Transportation (Navigant Research)
Upcoming Meetings and Events
Name of meeting [with Link to Website] Date (Location) (Information new since last month in boldface.)
Manufacturers' News
Phillips & Temro Industries Introduces Idle Free Series 4000 eAPU
Phillips & Temro Industries (PTI) has announced a new electric APU (eAPU) designed for trucks with limited rail space and trucks pulling refrigerated trailers. The Idle Free 4000 Series APU mounts behind the cab rather on the truck's rails. Like its predecessor eAPU, it captures and stores energy from the truck's alternator in absorbed glass mat (AGM) batteries. The stored energy provides power for cooling and accessories when the truck is stopped.
More information is available at the Press Release Rocket website. To read about how a refrigerated fleet used Idle Free eAPUs with Reefer Link® technology to improve driver recruiting and retention, please see Idle Free Systems' website.
School Buses
Massachusetts Launches Electric School Bus Pilot Program
The Massachusetts Department of Energy Resources (DOER) has awarded grants to four school districts for the purchase of electric school buses and chargers. The grants were awarded through DOER's new Vehicle-to-Grid Electric School Bus pilot project, which seeks to reduce petroleum use and assess the economic feasibility of electric-drive technology for school buses in cooler climates.
According to a press release from the Massachusetts Department of Energy and Environmental Affairs, the project's goal is to reduce petroleum use by approximately 22,680 gasoline gallons equivalent. The project will be one of the first demonstrations of electric school bus technology on the East Coast. For more information, please visit the Commonwealth of Massachusetts website.
Ports
Port of Hueneme Steps Up Shore Power
California's Port of Hueneme has introduced the second phase of its shore-power project. Now, three ships at berth may simultaneously access electricity from the grid. A Port press release states that the use of shore power, rather than running the auxiliary marine engines, at berth is expected to reduce emissions of particulate matter by 92%, nitrogen oxides by 98%, and greenhouse gases by 55%.
California's At-Berth Regulation requires that container ships, passenger ships, and refrigerated-cargo ships visiting California ports reduce emissions through the use of shore power or "alternative control" techniques. More information about the Port of Hueneme's shore-power project is available at the Port's website.
Additional Idle Reduction Resources
Please visit the Vehicle Technologies Office's Idle Reduction webpage for links to more idle reduction resources, including an idling reduction savings calculator (xls calculator and printable pdf calculator), Locations of Electrified Parking Spaces, Status of the Weight Exemption for Idling Reduction Devices, and back issues of National Idling Reduction Network News. Other resources include IdleBox, an electronic, modular toolkit to facilitate idling reduction outreach and implementation, IdleBase, a database of idling regulations for all classes of on-road vehicles, and the Alternative Fuels Data Center idle reduction page.