The National Idling Reduction Network brings together trucking and transit companies; railroads; ports; equipment manufacturers; Federal, state, and local government agencies (including regulators); nonprofit organizations; and national research laboratories to identify consistent, workable solutions to vehicle idling for the entire United States. Below is the most recent issue; the archives are available on the Archives page.
Subscribe to the Newsletter
To receive NIRNN by e-mail monthly, please e-mail Patricia Weikersheimer or enter your email in the box on the right-hand side of the page. If you have news you believe would be of interest to newsletter readers, please send it to idlingreduction@anl.gov.
July 2016 National Idling Reduction Network News: From the Editor
Everybody Idles (Part 2): Aircraft
When you're next sitting in an airplane waiting to take off, look out the window and notice the variety of ground-support equipment (GSE) on the tarmac. You'll see fuel trucks, baggage handling equipment, catering trucks, airplane pushback tugs, lavatory service vehicles, and, depending on the season, snow removal equipment. When aircraft is parked at a gate or remote position, it uses a ground power unit (GPU) or aircraft auxiliary power unit (APU). GPUs and APUs provide power for aircrafts' stationary power needs.
At many airports, the engines in GSE are gasoline- or diesel-powered. The GPU uses diesel fuel and the APU uses jet fuel. Operators run the GPUs and aircraft APUs while waiting to perform their jobs or between arrivals and departures. This equipment and aircraft idling increases airport ground-level emissions and affects local air quality. What if stationary aircraft can be powered using ground-based electricity instead?
A long-running grant program, the Voluntary Airport Low Emissions (VALE) Program, from the Federal Aviation Administration (FAA) helps airport sponsors meet their state-related Clean Air Act air-quality requirements. Each year, the FAA commits some funds from the Airport Improvement Program (AIP) for the VALE Program. Through VALE, FAA awards grants for various emissions reduction projects to airports that do not meet National Ambient Air Quality Standards. VALE projects generate Airport Emissions Reduction Credits that the U.S. Environmental Protection Agency (EPA) and state air quality agencies count toward future emissions regulation requirements for future capital projects. Airports can use AIP grants or Passenger Facility Charges—collected from passengers for use on airport projects (following FAA approval)—for project costs. The typical AIP grant covers between 75% and 90% of total project costs. Airports are required to pay remaining costs using local matching funds.
Airports have used VALE grants to pay the incremental cost of alternative-fueled vehicles, which run on compressed natural gas, electricity, and hydrogen power. Gate electrification replaces GPUs and the use of aircraft APUs with aircraft electricity and power for preconditioned air units that provide air conditioning within the aircraft. Electricity and preconditioned air units can also be placed near aircraft parked away from gates to provide power and conditioned air during maintenance or cargo loading.
VALE grants have also been used to replace conventionally fueled belt loaders, cargo loaders, bag tugs, and pushback tractors with electric- or hydrogen-powered units. These alternative fuels can significantly decrease airport emissions. Fueling an aircraft using underground fuel hydrant systems and an electric cart means that gasoline- or diesel-powered refueling vehicles, which idle, are no longer necessary.
The FAA also offers grants for zero-emissions vehicles (ZEVs) through their new Zero Emissions Airport Vehicle and Infrastructure Pilot Program. Through this program, the FAA can award grants for up to 50% of the cost of ZEVs and associated infrastructure. Airports are required to fund the remaining costs using local matching funds.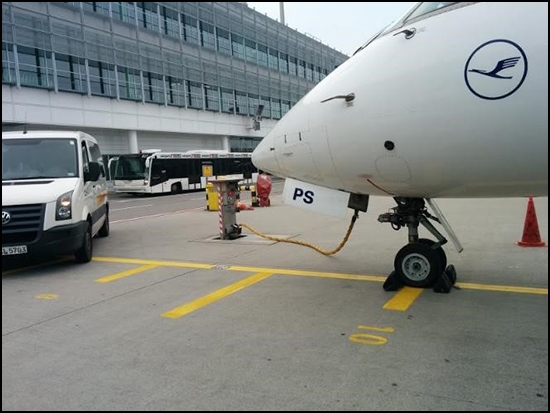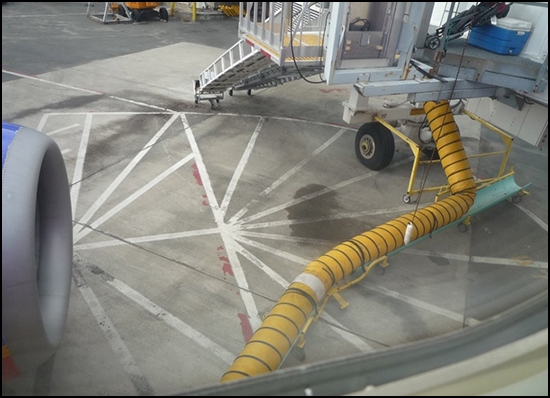 Photos show an aircraft powered by the terminal in lieu of running its APU (top) and a hose from the terminal providing preconditioned air to the plane (bottom). Photos courtesy of Linda Gaines, Argonne National Laboratory.
As of fall 2015, FAA has funded 87 VALE projects at 44 airports, which represents a total investment of $216 million in clean airport technology. That amount includes $172 million in federal grants and $44 million in local airport matching funds. Airports have reduced ozone emissions by approximately 801 tons per year, which is equivalent to removing more than 44,735 cars and trucks from the road annually.
Terry M. Levinson, Editor
Allegheny Science & Technology
tlevinson@alleghenyst.com
Patricia Weikersheimer, Writer
Argonne National Laboratory
pweikersheimer@anl.gov
Solicitations for Funding and Awards
Program (with link to website) — Organization — Funding Amount — Due Date  (Information new since last month in boldface.)
Deadline in Chronological Order
First Come, First Served
Rolling Deadline Until Funds Are Awarded
Awards
Awardee — Source of Award — Purpose of Award — Award Amount
Regulatory News
EPA Paves Way for Regulating Aircraft Emissions
The EPA has formally determined that aircraft engines generate greenhouse gas (GHG) emissions that cause climate change. This finding sets the groundwork for EPA regulation of aircraft emissions under the Clean Air Act (CAA). According to an EPA announcement, U.S. aircraft are responsible for about 12% of U.S. transportation-sector GHG emissions and 3% of total U.S. GHG emissions. Globally, U.S. aircraft generate 29% of all aircraft GHG emissions and 0.5% of all GHG emissions.
For more information, including details on the types of aircraft covered, please go to the EPA's website.
Reports and Other Resources of Interest
Upcoming Meetings and Events
Name of meeting [with Link to Website] Date (Location) (Information new since last month in boldface.)
Parking Spaces for Trucks
App Provides Reserved Parking for Trucks
TravelCenters of America has updated its TruckSmart Mobile App to include parking reservation capability. The Reserve-It! Parking program allows truck drivers to reserve parking spaces at any TA or Petro location up to 30 days in advance with the use of a credit card. The app is free. More information is available at TravelCenters of America's website.
Other News of Interest
Next for Tesla: Heavy-Duty Vehicles
Tesla Motors has announced that it is venturing into the heavy-duty vehicle market. According to a blog post by company CEO Elon Musk, Tesla is developing a "high passenger-density" transit bus and a heavy-duty truck. "We believe the Tesla Semi will deliver a substantial reduction in the cost of cargo transport, while increasing safety," said Musk. Both vehicle types are in early stages of development; the company plans to unveil the vehicles next year. Please see the Tesla Motors website for more information.
ATRI Updates Compendium of Idling Regulations
The American Transportation Research Institute (ATRI) has updated its compendium of idling regulations to include the repeal of North Carolina's 5-minute idling law. ATRI's resource for heavy-duty trucks is available as both a comprehensive listing and as a quick-reference cab card. To access the compendium, please go to ATRI's website and click on the idling compendium tab.
Additional Idling Reduction Resources
Please visit the Vehicle Technologies Office's Idle Reduction webpage for links to more idle reduction resources, including an idling reduction savings calculator (xls calculator and printable pdf calculator), Locations of Electrified Parking Spaces, Status of the Weight Exemption for Idling Reduction Devices, and back issues of National Idling Reduction Network News. Other resources include IdleBox, an electronic, modular toolkit to facilitate idling reduction outreach and implementation, IdleBase, a database of idling regulations for all classes of on-road vehicles, and the Alternative Fuels Data Center idle reduction page.