The National Idling Reduction Network brings together trucking and transit companies; railroads; ports; equipment manufacturers; Federal, state, and local government agencies (including regulators); nonprofit organizations; and national research laboratories to identify consistent, workable solutions to heavy-vehicle idling for the entire United States. Below is the most recent issue; the archives are available on the Archives page.
Subscribe to the Newsletter
To receive NIRNN by e-mail monthly, please e-mail Patricia Weikersheimer or enter your email in the box on the right-hand side of the page. If you have news you believe would be of interest to newsletter readers, please send it to idlingreduction@anl.gov
June 2015 National Idling Reduction Network News: From the Editor
Members of the National Idling Reduction Network News team often turn to each other and ask, "Why isn't there a trade association for manufacturers of idling reduction equipment?" or "Why isn't there some way to get data on sales and use?" Sales numbers are particularly difficult to find.
However, we've found a source that can give us a sense of idling reduction equipment sales: the North American Council for Freight Efficiency (NACFE). NACFE recently issued a report, the 2015 Annual Fleet Fuel Study, which shows the degree to which 13 fleets they surveyed have adopted idling reduction technologies. The fleets surveyed were running Class 8 day cabs and sleeper tractor-trailers in regional and long-haul applications. The figure below shows the kind of information available in this report.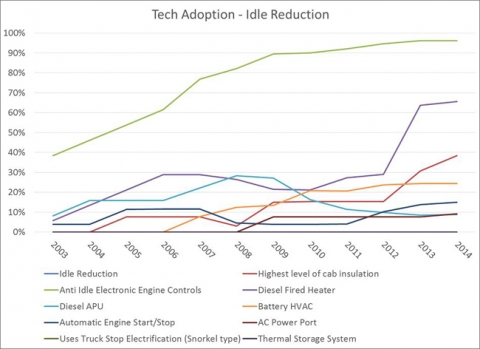 Source: NACFE, 2015 Annual Fleet Fuel Study
If you are aware of more information like this or are willing to share actual sales data, please let us know.
Terry M. Levinson, Editor
Energetics Incorporated
tlevinson@energetics.com
Patricia Weikersheimer, Writer
Argonne National Laboratory
pweikersheimer@anl.gov
Solicitations for Funding and Awards
Program (with link to website) — Organization — Funding Amount — Due Date  (Information new since last month in boldface.)
Deadline in Chronological Order
First Come, First Served
Rolling Deadline Until Funds Are Awarded
Regulatory News
EPA and NHTSA Release Phase II GHG and Fuel Efficiency Standards
The U.S. EPA and the Department of Transportation's National Highway Traffic Safety Administration (NHTSA) have proposed Phase II greenhouse gas (GHG) emissions and fuel efficiency standards for medium and heavy-duty vehicles. These standards, which apply to commercial medium- and heavy-duty vehicles for model years 2021–2027, would reduce CO2 emissions and fuel use by up to 24% for combination tractors and by up to 16% for vocational vehicles.
EPA and NHTSA expect that new, advanced technologies such as engine stop/start and powertrain hybridization will help manufacturers achieve the new standards. Under the proposal, manufacturers could use "extended" idle reduction technologies to meet standards for combination tractors and "workday" idle reduction technologies to meet standards for vocational vehicles. For more information, please see the EPA's and NHTSA's regulatory announcement.
Boston Simplifies Idling Law Enforcement Authority
Boston Mayor Martin Walsh has signed, "An Ordinance to Protect Air Quality throughout the City of Boston by Reducing Fuel Emissions." In addition to requiring that all pre-2007 vehicles owned or leased by the city be retrofitted with more effective emissions-reduction equipment, the ordinance "simplifies and unifies" the authority for the Boston Police Department, the Boston Transportation Department, and the Air Pollution Control Commission to enforce the state idling law in a consistent way. Penalties for violations remain $100 for the first offense and $500 for subsequent offenses. More information is available at the City of Boston's website.
Awards and Recognition
Awardee — Source of Award — Purpose of Award — Award Amount
New West Technologies (Utica, New York) — NYSERDA — Development and demonstration of a working prototype of a thermal-energy storage and power system for refrigerated truck trailers — ~$410,000.

US Hybrid Corporation (Torrance, California) — U.S. Department of Energy (DOE), Small Business Innovation Research and Small Business Technology Transfer Program — Development and demonstration of fuel cell-battery electric hybrid for medium- or heavy-duty utility or municipal bucket trucks — $148,394.
Reports and Other Resources of Interest
Upcoming Meetings and Events
Name of meeting [with Link to Website] Date (Location) (Information new since last month in boldface.)
Manufacturers' News
Wrightspeed: Electrifying Medium- and Heavy-Duty Trucks
Wrightspeed, a company founded by Tesla's co-founder, Ian Wright, is seeking to electrify medium- and heavy-duty vehicles. With the goal of cleaner, quieter, and more energy-efficient operation, the company manufactures electric powertrains to be installed on refuse haulers, package delivery trucks, and other off-highway trucks that make frequent stops. The powertrains feature an electric engine, battery system, and on-board generator that runs on diesel or natural gas and recharges the battery when its state of charge is low.
FedEx has ordered 25 powertrains for a pilot program, and Ratto Group, a garbage and recycling company based in Santa Rosa, California, is installing them on 17 garbage trucks. More information is available at the Associated Press.
Enforcement
New Jersey Targets Construction-Vehicle Idling
The New Jersey Department of Environmental Protection (DEP) has issued an enforcement alert: "High Levels of Air Pollution Recorded as a Result of Idling Construction Vehicles and Equipment." The alert, which applies to owners and/or operators of diesel- or gas-powered construction vehicles or equipment, was issued after DEP air monitoring identified high levels of nitrogen dioxide in areas near idling construction vehicles and equipment.
The idling of construction vehicles in New Jersey is limited to 3 consecutive minutes in any one-hour period. Failing to follow the law may lead to enforcement actions and civil fines, which start at $250 per day, for the property owner and the vehicle/equipment operator. For more information, please see the New Jersey DEP's advisory.