The National Idling Reduction Network brings together trucking and transit companies; railroads; ports; equipment manufacturers; Federal, state, and local government agencies (including regulators); nonprofit organizations; and national research laboratories to identify consistent, workable solutions to heavy-vehicle idling for the entire United States. Below is the most recent issue; the archives are available on the Archives page.
Subscribe to the Newsletter
To receive NIRNN by e-mail monthly, please e-mail Patricia Weikersheimer. If you have news you believe would be of interest to newsletter readers, please send it to idlingreduction@anl.gov
November 2014 National Idling Reduction Network News: From the Editor
As we continue to examine changes in the field of idling reduction in the past 10 years, this month we're turning our attention to truck stop electrification (TSE). TSE, which is also called electrified parking spots (EPS), allows truckers to stay comfortable while the truck is turned off without idling their engines.
Federal hours-of-service laws limit the amount of time drivers of commercial motor vehicles can be behind the wheel to a maximum of 10 hours after 8 consecutive hours off duty. How is a driver supposed to stay comfortable during that 8-hour rest period? They have several options: idling the vehicle to run heat or air conditioning, having on-board equipment such as a bunk heater or an auxiliary power unit, or using TSE or EPS at a truck stop or warehouse.
We certainly prefer that drivers not idle as idling wastes fuel, contributes to poor air quality, and leads to increased maintenance costs. On-board equipment is one option that is preferable to idling. The third option to stay comfortable – plugging in at a TSE location – is becoming increasingly available and can be an affordable option for drivers.
According to DOE's Alternative Fuels Data Center, there are 113 TSE locations in 36 states that offer almost 3,000 parking spots, as of June 2014. In the past 10 years, that number has fluctuated due to the availability of funding from either the government or the private sector.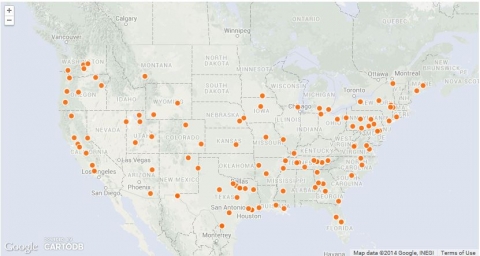 Source: http://www.afdc.energy.gov/tse_locator/
For example, IdleAire has seen its fortunes change over time. From 131 locations in 34 states with money from grants and investors to closing in 2010 to then being purchased by Convoy Solutions, the company is now in the process of rebuilding its network. There are now 34 IdleAir locations in 19 states and the company is also locating its equipment at fleet terminals and distribution centers.
Another company, Shorepower, also used grant money to build nine installations before it received significant DOE funding through the American Recovery and Reinvestment Act in 2011. Currently, Shorepower has 62 TSE locations in 30 states.
Several smaller companies – AireDock, CabAire, and Envirodock – have 15 locations in 11 states.
If the world were perfect, TSE locations would be a convenient distance from one another on major highways and open to truckers to want to plug in. These companies are still investigating the right business model that can enable truckers to use TSE to avoid idling during their designated breaks, reducing operation costs, emissions, and fuel use.
Terry M. Levinson, Editor
Energetics Incorporated
tlevinson@energetics.com
Patricia Weikersheimer, Writer
Argonne National Laboratory
pweikersheimer@anl.gov
Solicitations for Funding and Awards
Program (with link to website) — Organization — Funding Amount — Due Date  (Information new since last month in boldface.)
Deadline in Chronological Order
First Come, First Served
Rolling Deadline Until Funds Are Awarded
Regulatory News
West Palm Beach Bans Idling of City Utility Vehicles
West Palm Beach, Florida, now limits the idling of city utility vehicles to 5 minutes or less. According to the City, the policy will save tens of thousands of dollars each year. Mayor Jeri Muoio made this announcement in front of a poster that is part of DOE Clean Cities' IdleBox electronic toolkit of idling reduction materials.
GPS technology–equipped units will monitor vehicle activity, including how long each vehicle idles, and can generate report for managers' review. The City will place reminder decals on the vehicles and give utility employees key chains with reminders not to idle. In the future, the idling restriction will be applied to other municipal vehicles.
More information, including a video, is available at the West Palm Beach website.
Reports and Other Resources of Interest
Upcoming Meetings and Events
Name of meeting [with Link to Website] Date (Location) (Information new since last month in boldface.)
Manufacturers' News
Allison and Vanner Partner for Full Accessory Electrification
Allison Transmission is now offering a new option for the full electrification of accessories used with its H 40/50 EP hybrid propulsion system for transit buses and coaches. Increased Accessory Power II (IAP II), codeveloped with Vanner, Inc., provides power from the hybrid system to components such as air conditioning and air compressors. Michael Headly, senior vice-president of global marketing, sales, and service for Allison Transmission, said that the system has enabled a number of U.S. transit agencies to realize a 16% improvement in fuel economy. More information is available at Allison Transmission.
Electrified Parking Spaces
Electrified Parking Spaces for FDNY Ambulances
Electrified parking spaces aren't just for long-haul, heavy-duty trucks or recreational vehicle operators. Plugging in rather than idling saves fuel and reduces emissions and engine wear.
In New York City, a project is underway to test the viability of ambulances plugging in while they are on standby. Funded by the New York State Energy Research and Development Authority (NYSERDA), the $320,000 project funds Shorepower's design, installation, and evaluation of 10 street-side electric connection stations to support reduced ambulance idling. (Because ambulances need to move on short notice, the street-side power kiosks will have an automatic plug-eject system to release the electrical connector when the engine is started.)
According to NYSERDA, the average New York City Fire Department ambulance idles 12 hours per day, using 14 gallons of fuel, to maintain interior comfort, operate communications equipment, and keep medical supplies at the proper temperature. Plugging in using street-side connections will be yield better air quality for people both inside and outside the ambulances. For more information about the project, please go to NYSERDA and the Portland Business Journal.
Railroads
BNSF Retrofits Locomotives with HOTSTART APUs in Washington State
In partnership with the Spokane Regional Clean Air Agency and the manufacturer HOTSTART, BNSF Railway is retrofitting 11 locomotives with HOTSTART APUs at rail yards in Spokane and Pasco, Washington. HOTSTART APUs allow engines to stay warm without idling, reducing fuel use and emissions. BNSF has also installed automatic engine start-stop systems (AESS) that can be used with the APUs.
The Spokane Regional Clean Air Agency, with assistance from the Washington State Department of Ecology, facilitated the project. According to the agency, the installation will result in a 22-ton emissions reduction during the cooler part of the year when the APUs are used.
More information is available at the Spokane Regional Clean Air Agency website.
Other News of Interest
Santa Barbara's Sheriff's Office Tackles Idling
Earlier this year, the Santa Barbara (California) Grand Jury found that the county's idling patrol cars consumed more than $580 in zero-mpg fuel per day, costing the county more than $1.25 million since 2008. It urged the Sheriff's Office to install a system that would enable the vehicles to comply with the county's anti-idling policy.
The Sheriff's Office chose to install the Havis IdleRight2, which monitors the vehicle's battery's state of charge when the engine is off and the battery is providing power for auxiliaries such as emergency lights and communications equipment. The devices have been installed on 42 of the department's 51 patrol cars (older vehicles due to be replaced soon did not receive units). Patrol cars can now operate in engine-off mode for 3 to 4 hours before requiring an automatic engine start to charge the battery.
The department's fleet manager, Mitch Guenthart said, "We fully expect an ROI in less than six months while at the same time helping the Sheriff to comply with the grand jury's mandate and the county's anti-idling policy." More information is available at PRWeb.