Workplace Charging Challenge Ambassadors
The Workplace Charging Challenge enlists stakeholder organizations as Ambassadors to promote and support workplace charging. The directory below highlights Workplace Charging Challenge Ambassadors across the country.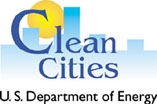 Clean Cities
National: A network of nearly 100 Clean Cities coalitions, supported by the Vehicle Technologies Office, brings together public and private stakeholders to deploy plug-in electric vehicles, alternative and renewable fuels, idle-reduction measures, fuel economy improvements, and other petroleum reduction strategies. Clean Cities coordinators are knowledgeable about local incentives and policies for workplace charging as well as other aspects of plug-in electric vehicle community readiness.