Minh Le, Director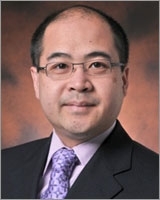 Minh Le is the Director of the Solar Energy Technologies Office within the U.S. Department of Energy (DOE), where he helps to manage and balance a roughly $1B multi-year portfolio of research, development, demonstration, and deployment programs to achieve the goals of the SunShot Initiative. 
Prior to his current role at the DOE, Minh spent his career in the semiconductor and solar industry developing technologies and scaling new technologies to high volume manufacturing. 
Minh earned his B.S. and M.S. degrees from MIT, where he held fellowships with DOE, the Department of Defense, and the Bose Foundation.
Dr. Becca Jones-Albertus, Photovoltaics Program Manager
Dr. Becca Jones-Albertus manages SunShot's photovoltaics program, which endeavors to make significant improvements in solar cell efficiency, cost and reliability.
Dr. Jones-Albertus has more than 10 years of experience working with solar cell materials and devices, from fundamental research and development to manufacturing. Previously, Dr. Jones-Albertus was the characterization and design manager at Solar Junction, where she led work contributing to the development of the company's breakthrough dilute nitride solar cells, their two-time world record triple junction solar cells and then the successful transfer of that technology to a high volume manufacturing toolset. She has 34 technical publications and one patent.
Dr. Jones-Albertus graduated magna cum laude from Princeton University with a B.S. in electrical engineering, and also holds a M.S. and Ph.D. in materials science and engineering from the University of California, Berkeley.
Dr. Ranga Pitchumani, Chief Scientist & Acting Systems Integration Director
In 2011, soon after the launch of the SunShot Initiative, Dr. Ranga Pitchumani was invited to direct SunShot's concentrating solar power (CSP) program toward its ambitious goal of making CSP cost-competitive with other forms of energy by the end of the decade. He currently serves as the chief scientist and director of the systems integration (SI) programs. Dr. Pitchumani also holds an academic appointment as professor of mechanical engineering at Virginia Tech.
In his role at Energy Department, Dr. Pitchumani oversees a team of technology managers and technical, financial, and support personnel who actively manage the competitive awards in the SI portfolio. Under his leadership, several new initiatives have been launched with significant investment and have engaged a spectrum of participants and disciplinary expertise working in concert toward the program's mission.
Dr. Pitchumani brings to SunShot a breadth of technical expertise in the areas of energy sciences, materials, and manufacturing and significant administrative experience from his leadership roles in academia. He has authored more than about 200 refereed articles and book chapters, has co-edited eight book volumes, and is an inventor on 2 U.S. patents or disclosures. He currently serves on the editorial boards of Solar Energy, Frontiers in Heat and Mass Transfer, Journal of Composite Materials, and Journal of Thermoplastic Composite Materials and has been an associate editor for the ASME Journal of Heat Transfer. He has received numerous awards, including the Young Investigator Award from the Office of Naval Research, is a fellow of the American Society of Mechanical Engineers, and is an elected member of the Connecticut Academy of Science and Engineering.
Dr. Pitchumani holds Ph.D. and M.S. degrees in mechanical engineering from Carnegie Mellon University and a bachelor's degree in mechanical engineering from the Indian Institute of Technology, Bombay.
Dr. Lidija Sekaric, Technology-to-Market Program Manager
Dr. Lidija Sekaric manages SunShot's technology to market program. Her team's portfolios spans start-up incubation programs, technology commercialization pathways, innovation in manufacturing, cost analysis, and strategic programs and analysis.
Prior to joining SunShot, Dr. Sekaric served as a senior advisor in the office of the Under Secretary of Energy and as a technical and market advisor for some of the world's largest distributed solar generation projects. Prior to joining the Energy Department, Dr. Sekaric conducted research in nanoscale science and engineering. Her accomplishments include record-setting devices in nano-photonics, electronics, nanomechanics and sensors.
Dr. Sekaric has more than 40 scientific publications and holds 23 U.S. patents. She received her Ph.D. and M.S. in applied physics from Cornell University and her A.B. in physics from Bryn Mawr College.
Joe Stekli, Concentrating Solar Power Program Manager
Joe Stekli is the program manager for the concentrating solar power (CSP) subprogram within the SunShot Initiative.  Joe has worked for the federal government since 2009. Until 2013, Joe was a technology manager for the CSP subprogram.  From 2013-2014, Joe was a President's Management Council fellow, working at the White House Office of Management and Budget as an examiner in the treasury branch before returning to DOE and joining Advanced Research Projects Agency – Energy (ARPA-E) as a technology-to-market advisor. 
Before joining the federal government, Joe spent five years working as an engineering manager and process engineer in the semiconductor industry with Micron Technologies and Sumco. 
Joe holds a B.S. in chemical engineering and an M.B.A., both from Ohio State University.
Dr. Elaine Ulrich, Balance of Systems/Soft Costs Program Manager
Dr. Elaine Ulrich is a program manager at the Department of Energy where she leads the SunShot balance of systems/soft costs team.  Her team which works to reduce the non-hardware (soft costs) of solar, lower barriers to solar adoption, and foster market growth through  support for state and local development and technical assistance programs; information & data assets; finance & business model development; workforce & training programs; and policy & regulatory analysis. 
A former American Physical Society/American Association for the Advancement of Science policy fellow, Dr. Ulrich has spent the past few years working on renewable energy. She previously held positions in the office of former U.S. Senator Ken Salazar, U.S. House of Representatives Committee on Science and Technology, the Energy Department's Office of Strategic Planning and Analysis, and in the office of U.S. Representative Gabrielle Giffords, where she worked to build a comprehensive solar energy portfolio.
Dr. Ulrich holds a B.A. in physics from Wellesley College and a Ph.D. in optical science from the University of Arizona.