May 19, 2014

8:00PM

to

11:00PM

PDT
The 2014 SunShot Grand Challenge Summit and Peer Review will host a Technology Forum showcasing innovative and cutting-edge technologies that are helping to drive down the cost of solar energy. The Forum will feature a wide range of solar industry exhibitors showcasing software and hardware products and solutions, as well as nearly 300 SunShot awardees displaying their work and answering questions about their projects.
Technology Forum Hours
May 19 from 4:00-7:00pm
May 20 from 4:00-7:00pm
May 21 from 4:00-7:00pm
Download the Technology Forum map and list of awardees' posters and exhibits.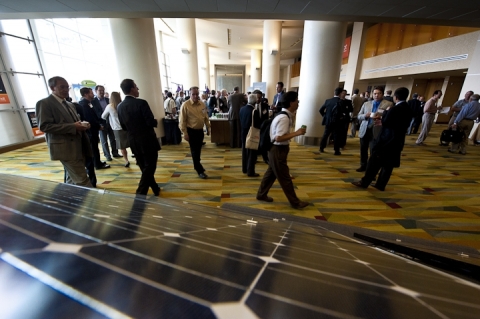 All Summit attendees will have a unique opportunity to view interactive technology demonstrations and poster displays from SunShot awardees, foster new partnerships with innovators in the solar industry, and walk away with a comprehensive update on the latest in solar research and development and the SunShot portfolio.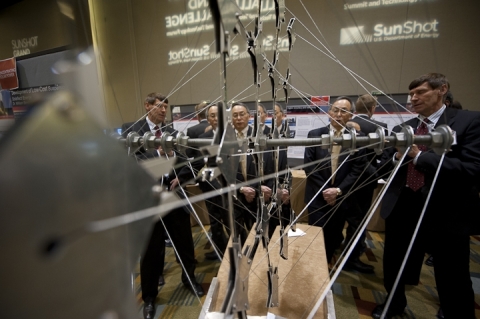 Exhibitors
Click on the same of an exhibitor to learn more.
National Renewable Energy Laboratory -- National Center for Photovoltaics
University of Arizona
Virginia Tech
Solar Energy Institute
SunShot City and Innovation Alley
The "SunShot City and Innovation Alley" will showcase SunShot awardees' most innovative approaches to making it faster, easier, and cheaper to go solar. This exhibit will feature trailblazing local initiatives alongside technology solutions that are driving the country to our solar future.
Brittmore Group LLC
Brittmore provides EPC's an automated system for PV power plant construction. Brittmore will exhibit the Brittmore Automated PV Installation System. Additionally, the WaveRack PV Ground mount, shuttle robot, and frameless panel assembly will be on-site.
Solar Instructor Training Network
The Solar Instructor Training Network (SITN) is engaged in providing community college based faculty and student training for PV installation and related skills throughout the United States. This exhibit will provide a demonstration of student skills installing a typical residential PV system on a mock roof.  
United States Photovoltaic Manufacturing Consortium (PVMC)
The PVMC is a university hosted, industry led consortium that provides the PV industry with technology validation enabling an increase in PV deployment with projects in three focused areas:  lightweight PV, metrology and performance.  The current PVMC projects seek to align next generation PV technology with market demand. 
Sandia National Laboratories
The SNL booth will highlight projects that foster new research directions within existing DOE Solar Program activities and have the potential to drive transformational changes in the solar industry.
Projects selected for the SunShot Summit include our innovative work in Roof Structure Analysis and demonstrations of industry tools such as the Solar Glare Analysis (SGHAT) which helps determine when and where solar glare can occur throughout the year from a user-specified PV array and the PV Value tool, an application that appraisers are using to understand the value of/ properly assign value to residential and commercial PV systems.
SunShot: Ask Your Contracting Officer and Technical Project Officer
This booth will enable current SunShot awardees to meet with and discuss grant management with the COs and TPOs that manage SunShot funding awards. There will be sign up times to meet with specific COs and TPOs at the event.
SunShot HiPen Award Showcase
This booth will feature HiPen awards funded by the SunShot Initiative. Awardees will present  and demonstrate the tools and models that have been generated and used to predict high penetration of PV on the national grid.
Soft Cost Tools for Solar Deployment
(Tuesday, May 20) Rocky Mountain Institute (RMI) has developed a tool that enables electric utilities to anticipate solar placement on the distribution grid, and how solar generation could impact utility costs, maintenance schedules, and rate designs. RMI will demonstrate its Utility Business Modeling tool, the "EDGE" system, at its booth using various solar installation assumptions.
(Wednesday, May 21) The Hawaii State Energy Office, which oversees the Hawaii Department of Business, Economic Development & Tourism (DBEDT) used SunShot support to clarify state policies for integration of distributed generation. Working across many state and federal agencies and with utility partners, DBEDT also developed a statewide "Permitting Wizard" that brings all required permits and requirements into one web site for fast solar development and approval. DBEDT will demonstrate the "Wizard" at its booth on Wednesday.
Terrafore Technologies - Phase Change Thermal Storage
Terrafore successfully broke through the technology barrier to make capsules containing phase change salts and to effectively use latent heat storage in these salts to increase the energy density by over 50%, compared to the conventional sensible heat storage.  This breakthrough will significantly reduce the cost of the thermal energy storage towards the SunShot cost goal of less than $15 per kWht. To scale this process from lab to manufacturing, Terrafore is looking to partner with CSP developers. At the booth Terrafore will show a demonstration of how capsules are made, how these can be used in a single tank TES, and the benefits of using these capsules to store high temperature thermal energy.
GE Global Research Center
GE will exhibit its Module Embedded Micro-inverter for Smart Grid Ready Residential Solar Electric System.
Enabling High-Penetration PV with Smart Inverters
This exhibit will showcase the Electric Power Research Institute lead DOE project to demonstrate smart inverters on utility distribution feeders. Attendees will learn about the open standard grid-supportive functionalities available to utility distribution system operators and how field measurement data and feeder analysis can be used to understand the impacts of high penetration with and without smart inverters.
National Renewable Energy Laboratory Balance of Systems Team
The NREL BOS Team booth will display publications about solar market challenges, invitations to participate in NREL working groups, and live demonstrations of NREL solar tools and resources. Please stop by to learn more about our work and speak with our Solar Market Experts.
Solar Utility Network Deployment Acceleration (SUNDA)
Solar Utility Network Deployment Acceleration (SUNDA) Electric cooperatives are working together to accelerate solar photovoltaic adoption across the United States. Through this project, the SUNDA team is developing a "PV system package" consisting of engineering designs; business models, financing, and insurance options; and optimized procurement that will drastically reduce soft-costs, including:  engineering design costs by 25%; procurement costs by 10%; insurance costs by 25%.
The overall goal of the project is to reach a target of $1.60/Wp installed cost. The project will also include a PV Maturity study as well as extensive training and outreach to over 900 electric cooperatives in the U.S.
Bay Area Photovoltaic Consortium
The Bay Area Photovoltaic Consortium is a unique partnership joining universities, industry, and the US Government to support university research developing technology that industry will use.  BAPVC supports 35 university teams from across the country, providing a forum for lively interaction among the leading scientists from both industry and universities to catalyze generation of the disruptive ideas that can change the face of PV manufacturing in the United States
Regional Test Centers
The five Regional Test Centers in NM, CO, FL, VT, and NV are the DOE's premiere places for testing, demonstrating, and evaluating PV systems and new technologies.  Come learn about current projects and future opportunities for outdoor field validation of emerging photovoltaic technologies.
Southern California Edison 
Southern California Edison is the largest electric service company in Southern California with a service territory of about 52,000 square miles.  Southern California Edison is a leader in the integration of renewable resources with over 600MW of interconnected to the distribution grid.
Cascade Engineering and Patriot Solar
The Spider ST Ballasted Roof Mount from Patriot Solar Group eliminates steel costs, minimizes usage of roof space, reduces weight factors, and is shaped to be stacked neatly and efficiently for a significant cost reduction in shipping.  As well as being UL 2703 compliant to include grounding, fire, & U.V. protection, the Spider ST has been voted the best new ballasted roof mount in the industry and is the first 100% injection molded polypropylene roof mount design for mounting solar panels.
National Renewable Energy Laboratory -- Energy Systems Integration Facility (ESIF)
NREL's multistory Energy Systems Integration Facility (ESIF) provides 182, 500-ft2 of laboratory and office space for approximately 200 NREL staff conducting research to overcome challenges related to the interconnection of distributed energy systems and the integration of renewable energy technologies into the electricity grid. Current solar energy work includes long-term PV reality testing, evaluations of concentrating solar power materials and system components, PV inverter testing, and distribution and transmission solar integration studies.
Students at the Summit
The SunShot Grand Challenge Summit will bring together more than 800 members of the solar community to review the progress made toward the SunShot goal and discuss the challenges ahead to make solar energy more affordable and widespread across America. Join SunShot-funded project teams, industry leaders, innovative researchers and scientists, and policymakers to celebrate the accomplishments across more than 300 SunShot-funded projects and discuss the path forward for the U.S. solar energy industry.
**Non-registered students, academic staff and faculty can attend the Technology Forum during the SunShot Summit free of charge on May 20 from 4:00-7:00 p.m. and May 21 from 4:00-7:00 p.m. only. We welcome students to attend and learn more about the cutting-edge science and innovation in solar energy.
Students at the Summit information