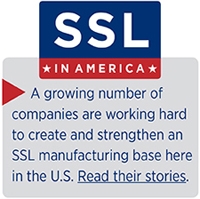 This page contains links to weekly Postings from the U.S. Department of Energy (DOE) Solid-State Lighting Program. The Postings provide updates from DOE on solid-state lighting program events, and examine technology trends and performance issues related to solid-state lighting.
If you wish to link to or reference an issue of the Postings, we ask that you comply with the following requirements:
Request permission from the U.S. Department of Energy, describing the purpose for making use of the Postings and providing a basic profile of your audience
Provide proper attribution to DOE and context for the Postings message, using the description provided at the top of this page so the Department of Energy is given appropriate acknowledgement.
To reference a specific issue of the Postings in its entirety, link to the PDF file posted on the DOE SSL website, rather than downloading the file to another web server per EERE's web policy.
Provide the DOE SSL Program a link to your use of the Postings to facilitate ongoing participation and collaboration by DOE.
Do not use Postings material to state or imply DOE endorsement of a commercial product, service, or activity; or use it in any other manner that might mislead the public.
Note that the fast pace of solid-state lighting technology and market developments often renders last month's news obsolete, so interested readers should stay tuned on a weekly basis. To add your name to the Postings mailing list, contact postings@akoyaonline.com.
MAY
May 27, 2015: SSL in America—Spotlight on Pixelligent
May 20, 2015: GATEWAY Demonstration of LED Lighting in a High-Temperature Environment: One Year Later
May 14, 2015: Some Observations from LIGHTFAIR
May 5, 2015: Next Generation Luminaires Winners Announced
April
Apr. 28, 2015: See You at LIGHTFAIR
Apr. 22, 2015: A Treasure Trove of SSL Market Data
Apr. 15, 2015: SSL in America—Spotlight on SAES Pure Gas
Apr. 10, 2015: Save These Dates
Apr. 2, 2015: SSL in America—Spotlight on PhosphorTech
March
Mar. 25, 2015: Recognizing the Eminently Specifiable in a Fast-Moving Market
Mar. 16, 2015: LED Lamps Sold at Retail Stores
Mar. 10, 2015: Still Much Work to Be Done
Mar. 3, 2015: SSL in America—Spotlight on Sky Factory
February
Feb. 24, 2015: SSL Is Stepping Up to the Plate in the Sports World
Feb. 18, 2015: A Candid Look at LED PAR38 Lamps
Feb. 10, 2015: LED Adoption by Museums: Survey Results and Recommendations
Feb. 5, 2015: Some Thoughts on the San Francisco Workshop
JANUARY
Jan. 26, 2015: SSL in America—Spotlight on Lumenetix
Jan. 22, 2015: GATEWAY Demonstration: LED Lighting in a High-Temperature Environment
Jan. 13, 2015: A Look Ahead at 2015
Jan. 8, 2015: A Look Back at 2014
Archives
2014 | 2013 | 2012 | 2011 | 2010 | 2009