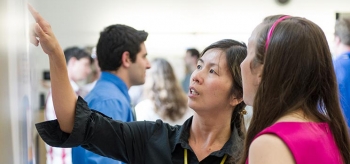 Photo courtesy of Dennis Schroeder, NREL 27311
A large part of EERE technology deployment depends on the United States's ability to innovate, produce, install, maintain, and service advanced energy technologies. The Office of Energy Efficiency and Renewable Energy's (EERE) education and workforce development activities support the market deployment of EERE technologies by focusing on further development and enhancement of these critical workforce skills as well as engaging and inspiring the future workforce.
Learn more on EERE's Energy Education and Workforce Development website.
Education Blog
November 5, 2013

As part of the US Ignite project, the Energy Department worked with Mozilla to create free and open source simulations of the solar system and the surface of Mars.

October 22, 2013

America's Home Energy Education Challenge, or AHEEC, is a competition developed by the Energy Department and the National Science Teachers Association designed to show students how they can save energy at home.

October 22, 2013

Solar Decathlon 2013 might have ended, but it is having a lasting effect on sustainable design and our nation's clean energy leaders.

September 30, 2013

Last week, teams began reassembling their houses on the Solar Decathlon competition site. See photo updates from the first week of construction.

September 25, 2013

Josh Sneideman is EERE's Office of Strategic Program's Albert Einstein Distinguished Educator Fellow. He is dedicated to leading Energy Literacy efforts for EERE's Workforce Development and Education Team.