EERE has tracked commercialized SBIR-funded technologies by estimating realized and potential energy, environmental, and economic benefits of selected projects. Find out how companies used SBIR grants to realize their vision. Your story might be next!
"Innovators are intense observers. They carefully watch the world around them and the observations help them gain insights into and ideas for new ways of doing things." — Jeff Dyer, The Innovator's DNA
Cerahelix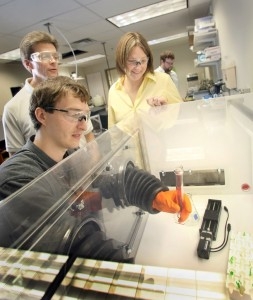 Susan MacKay has used SBIR funding to move Cerahelix's filtration R&D efforts forward without interruption.
Cerahelix focuses on research and development in ceramic materials. The company produces nanoporous ceramic coatings that are used to make high purity ceramic filters. Filters are used in a variety of process industries (point-of-use water treatment, food and beverage manufacturing, oil and gas/water treatment, biofuel and bioproducts processing).
Results
An improved prototype design based on feedback from first customer trials developed using DOE SBIR funds to support engineering and R&D activities
Got first three US patents issued on core technology (using DNA to make molecular separation membranes used for filtration)
Closed first round of seed financing and currently raising additional seed financing to support expanding management team (business development executive)
How the DOE SBIR Helped
The U.S. Department of Energy (DOE) SBIR is supporting Cerahelix' major R&D effort. DOE SBIR funds are also being used to support our early customer testing. It currently has nine customer/partners lined up who wish to evaluate our prototype. DOE funding will enable Cerahelix to work with these early decision makers and help us determine the best path to market.
Testimonial
"The SBIR funding has been critical in that it helps stabilize our technical workforce, allowing us to build up a body of knowledge, and move ahead with key R&D efforts without interruption..."
"It has also helped us in securing external investment as it lends validation to the scientific and technical potential of our work. Many Angel investors rely on programs like SBIR to help 'vet' technology companies if they themselves do not have extensive knowledge in the field to determine if the technology is viable."
Awards
Mass High Tech "Woman to Watch" in 2011
Founder/CEO: Susan MacKay
Industry: Filtration
Piedmont Biofuels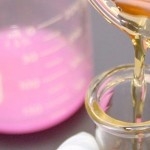 SBIR helped Rachel Burton and North Carolina-based Piedmont gain national credibility as a small biodiesel producer.
Piedmont Biofuels produces biodiesel from locally sourced recycled cooking oil, fats, and greases. Biodiesel is a clean burning renewable fuel derived from fats, oils, and greases. Piedmont's enzyme-based process technology, named the FAeSTER process opens the door to a world of new feedstocks that have not typically been available for biodiesel fuel production.
Part of Piedmont's production is sold to oil companies, as 100% biodiesel, known as "B100." Oil companies then blend the product with petroleum which they deliver to the consumer in lower percentage blends. The remainder of Piedmont's fuel production is delivered to its co-op members who fill up individual vehicles on what is known as the "B100 Community Trail." Piedmont operates 7 "Trail" locations, largely concentrated in the Research Triangle Park of North Carolina.
Results
Piedmont completed optimization of two production processes on our pilot scale plant. This optimization helped the company design and build an up-scaled commercial facility co-located at our existing facility.
Piedmont is the only BQ9000 accredited producer in the state, and for that matter, in the region, which is a quality accreditation awarded by the National Biodiesel Board.
How the DOE SBIR Helped
The DOE SBIR Phase I grant provided Piedmont the staffing time and resources to fast-track an enzyme-based solution for the biodiesel industry, which is being implemented throughout the country today. The Phase II SBIR grant provided funding to build Piedmont's enzymatic biodiesel plant, the first in the nation.
Testimonial
"Our national credibility as a small biodiesel producer was greatly enhanced BY THE SBIR GRANTS."
"Our national credibility as a small biodiesel producer was greatly enhanced BY THE SBIR GRANTS, as you can see in this quote from the President of the Biofuels Center of North Carolina, Steven Burke: 'Piedmont Biofuels shows well the sort of technological, entrepreneurial, and responsible leadership increasing state capabilities and decreasing total reliance on fuels from other places.' "
"This has been a unique collaborative effort between small business, state and federal organ," said Rachel Burton, Founder and former Director of Piedmont's Research and Analytics Department. "We believe that this technology will shift the industry to cleaner, more efficient means of production for today's advanced diesel engines," Burton said.
Awards/Distinctions
North Carolina Senator Kay Hagen did the honors at the ribbon-cutting for Piedmont Biofuel's new facility, in June 2012.
In 2013, Piedmont received its certification from the Roundtable on Sustainable Biofuels. In doing so they became the first biodiesel plant to receive such a distinction.
In 2011, Piedmont Founder and Director of Research and Analytics, Rachel Burton, was named Biodiesel Researcher of the Year by the National Biodiesel Board for her team's groundbreaking work on enzymatic catalysis.
In 2012, Piedmont received the: i2i Innovation Award at the Tech Connect and SXSW ECO conference.
Founder: Rachel Burton
Industry: Biofuels
Colnatec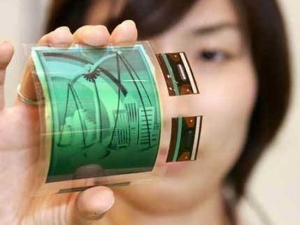 SBIR enabled Wendy Jameson and Scott Grimshaw to test and grow their new thin-film technology without giving away equity.
Colnatec manufactures advanced film thickness monitoring tools and provides process engineering services for organic light emitting diodes (OLEDs), thin film solar, and semiconductor manufacturing. Colnatec is the only company in the world designing and building high-temperature and temperature-controlled sensor systems for the harsh conditions necessary for making high-efficiency thin film solar cells and next generation, high-speed electronics.
SBIR Grant(s) Received
Phase I and Phase II DOE SBIR for "Self Cleaning Process Control Sensor for Thin Film Solar Cell Manufacturing"
Uses of SBIR Grant
Funding paid for engineering services, prototype development, materials, and laboratory testing to create a closed-loop film thickness monitoring system capable of stable operation in a high-vacuum deposition process at extreme temperatures (500°C+). System includes crystal sensor, sensor holder ("head"), and control electronics.
Results
Colnatec has sold advanced sensor systems to: 10 OLED manufacturers, several system builders or research institutes in Europe, Asia, and the USA (e.g., Samsung); eight semiconductor equipment manufacturers in Europe, Asia, USA, and India; and five solar manufacturers/equipment builders in USA and Europe. It has a sales and distribution network of more than 15 companies or representatives that covers all countries of Europe, Scandinavia, and UK, plus China, Korea, Japan, Taiwan, Malaysia, Singapore, Thailand, India, Indonesia, Philippines, Australia, and the USA, with sales in excess of $1,000,000 a year and growing.
Awards
2011 Arizona Commerce Authority Innovation Challenge Grant recipient
2012 Arizona Commerce Authority Fast Grant recipient
Frost & Sullivan 2011 "New Product Innovation Award"
Contributor to White House "Blueprint for an America Built to Last: Manufacturing"
Selectee, Inaugural Silicon Innovation Forum (SIF) Pitch Zone, SEMICON West, San Francisco, July 2013
Wendy Jameson, CEO, named White House "Champion of Change"
Wendy Jameson, CEO, named Phoenix Business Journal "Tech Titan"
Wendy Jameson, CEO, named 2013 "50 Most Influential Women in Arizona Business"
How the SBIR grant helped the business
Funding from the DOE SBIR enabled the development of a multi-use, multi-industry tool that would otherwise have gone undeveloped. At a time of great recession, when capital markets were largely closed, this funding enabled Colnatec to develop a new technology and manufacturing process that provides important solutions to thin film manufacturing challenges (including increased energy efficiency), close sales in multiple countries, and provide jobs for 15 people.
Testimonial
"SBIR allows small business to compete for dollars that typically go toward larger, more established companies."
"The SBIR system is critical for innovation in manufacturing, especially for exploratory new science that most venture and private equity firms won't invest in. It allows small business to compete for dollars that typically go toward larger, more established companies and enables them--the most nimble and adventurous--to contribute to science and technology without risking their entire business. Without SBIR funding, innovation in science and technology, particularly for manufacturing and other capital-intensive technologies with long ROI horizons, is seriously at risk in America."
Founder/CEO: Co-founders CEO Wendy Jameson and CTO/COO Scott Grimshaw
Industry: Thin Film Manufacturing Equipment
Proton Energy Systems
Proton Energy Systems is a successful small business specializing in clean production of hydrogen from water for diverse applications. Much of the technology development has been supported by DOE's Fuel Cell Technologies Program within the Office Energy Efficiency and Renewable Energy (EERE).
Proton Energy Systems designs and manufactures proton exchange membrane (PEM) electrochemical systems to make hydrogen from water in a zero pollution process producing safe, pure, reliable onsite hydrogen to meet today's global hydrogen requirements. The company has been developing and manufacturing electrolysis systems since 1996, with more than 1,600 units currently deployed in 62 countries. Proton's PEM systems are used in the U.S. military, aerospace, vehicle fueling, and renewable energy industries. Today, Proton has more than 70 employees and generates more than $20 million in revenue.
Technology
Proton's commercial products are designed to meet high purity hydrogen needs for a variety of applications. For example, Proton's FuelGen® hydrogen fueling system is a fully integrated, packaged electrolysis system that produces medium pressure, high purity hydrogen from water and electricity at capacities of up to 65 kg/day. The system includes the electrolyzer cell stacks, outdoor-rated enclosure with shrouds, integrated vent stack with automatic drain trap, support and safety systems
for regulating electrolyzing operations, on-board feed water purification system, automated tank-topping option, power conservation during stand-by, and remote monitoring for a full service solution. Proton also manufactures the HOGEN RE® hydrogen generation system, which includes a DC-to-DC power converter and a software operating system that allows for several modes of operation in conjunction with renewable energy input. Renewables that can be coupled with HOGEN RE® hydrogen generators are wind, solar, hydro, and wave power.
Proton's electrolyzer technology development has been strongly supported by the U.S. Department of Energy's Fuel Cell Technologies Program, in part through Small Business Innovation Research (SBIR) Awards. Since 2008, specific DOE-funded SBIR projects at Proton have included: the Low Cost Large Scale PEM Electrolysis for Renewable Energy Storage project and the Home Fueler Development project, while non-SBIR DOE funds have supported Proton's Bipolar Plate Development project. These projects have demonstrated feasible pathways for reaching the DOE targets for hydrogen production cost and efficiency. In particular, the renewable energy storage project has demonstrated significant efficiency improvements through catalyst and membrane research, while the bipolar plate development project has already resulted in a 12 percent decrease in Proton's commercial stack cost and shown the potential for another 50% reduction in the bipolar plate cost.
Proton's development of grid-level support for energy storage is another important initiative for solving energy problems domestically and globally. Their regenerative fuel cell (RFC) systems offer modular, scalable backup power systems superior to traditional lead acid batteries and diesel generator sets. For this application, Proton has developed a high pressure PEM cell stack which can generate hydrogen from water safely and efficiently directly to storage pressures without the need for mechanical compression. By integrating PEM fuel cells with high-pressure PEM electrolyzers and hydrogen storage subsystems, the RFC systems deliver a predictable and uninterrupted source of backup power. The home fueler development supported by SBIR enables Proton to electrochemically compress hydrogen directly to 5000 psi, from the current 2800 psi technology.
Challenges Met
Proton Energy Systems has been an integral part of the SunHydro East Coast Hydrogen Highway initiative, an upcoming chain of hydrogen fueling stations making it possible to travel from "Maine to Florida on sun and water." SunHydro is the vision of entrepreneur Tom Sullivan, founder of Lumber Liquidators, who has recently acquired Proton Energy Systems as part of his portfolio of renewable energy companies.
The first station was opened in October 2010, at 10 Technology Drive in Wallingford, Connecticut, Proton's headquarters. The station is run by SunHydro and allows limited public access as a start but plans for full public access in the future. It will offer businesses and government vehicles a quick and easy option to fill up their fuel cell vehicles, and will provide the infrastructure to support broader availability of fuel cell electric vehicles, which is expected in 2015.
The SunHydro fueling station generates hydrogen on-site using Proton Energy Systems' enhanced PEM technology.
Content above originally developed by the U.S. Department of Energy, Office of Energy Efficiency and Renewable Energy, Fuel Cell Technologies Office.
Exelus Inc.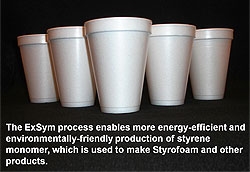 EERE has tracked commercialized SBIR-funded technologies by estimating realized and potential energy, environmental, and economic benefits of selected projects.
Exelus Inc., starting in 2005 with an EERE SBIR grant, developed the Exelus Styrene Monomer (ExSyM) process, which potentially requires as much as 50% less capital investment, uses 40% less energy, and produces 40% fewer greenhouse gas emissions than conventional styrene monomer production methods. Many commonly-used products, such as Styrofoam cups, are made from styrene monomer.
Download the Exelus case study.
Other EERE SBIR Case Studies