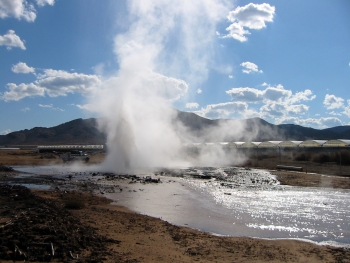 The National Geothermal Data System is helping researchers and industry developers cultivate geothermal technology applications in energy and direct-use through an open source data tool. Here, a geothermally heated greenhouse west of Newcastle, Utah relies on natural geothermal steam. photo courtesy Robert Blackett, NREL
When it comes to harnessing America's vast geothermal energy resources, knowing where to look is half the battle.
Geothermal energy—the heat contained within the earth—represents a growing part of the country's clean energy mix. Still, for continued growth of this industry, gaining easy access to reliable, comprehensive geothermal data remains a critical barrier.
To help solve this challenge, the Energy Department is partnering with the Arizona Geological Survey—among other public and private sector contributors—to create the National Geothermal Data System at www.geothermaldata.org. This interactive, open source database provides project developers and other industry partners with the critical information they need to cut the time in identifying and developing new production areas and to reduce upfront discovery costs.