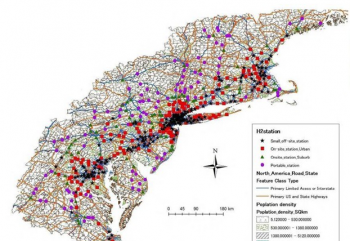 University students can join the EnergyDepartment-supported Hydrogen Education Foundation's Hydrogen Student Design Contest to plan and design a drop-in fueling station.
Hydrogen is increasingly becoming a fuel for clean, reliable power and is helping reduce the nation's overall carbon footprint. In fact, U.S. shipments of fuel cells (electrochemical devices that use hydrogen and other fuels to produce electricity for fuel cell electric vehicles (FCEVs), buses and other light duty and specialty  vehicles) increased by 34% in 2012 compared to the previous year.
As the hydrogen industry expands, refueling infrastructure needs to be developed to keep FCEVs powered and moving on America's roadways. University students can play a big role in this through the Hydrogen Education Foundation's Hydrogen Student Design Contest, supported by the Energy Department.
This year's contest invites teams of undergraduate and graduate students specializing in several areas of expertise including chemistry, industrial design, engineering, business, environmental science, and policy, to plan and design a drop-in fueling station (about the size of a freight container) which is low-cost, low-maintenance, and can be easily transported.  The contest consists of two phases. First, teams develop a draft technical design of the system and provide initial cost estimates, which are reviewed and evaluated by a panel of judges consisting of leaders throughout the hydrogen industry. Next, teams submit a report that includes the system's final design, addresses any identified issues such as safety and code compliance, an economic analysis, and marketing and public education plans. The judges then score the reports and teams with the highest point totals win the contest. 
Find out how to register for this year's contest and what the eligibility requirements are.  Visit hydrogencontest.org to learn more.  Also, register for our January 14 webinar with the University of Birmingham, the team who received an honorable mention for their design that connects hydrogen systems in Boston, Washington, D.C., and the Northeast.