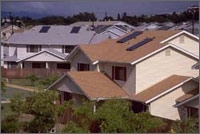 Moanalua Terrace is a U.S. Navy housing project on Oahu, Hawaii. At this site the Navy had demolished 752 units of family housing, which were being rebuilt in four phases. The Hawaiian Electric Company's (HECO's) $1,500 per unit rebate for solar water heaters installed on new construction projects was an incentive for the Navy to install solar water heaters on family housing units.
When the 100 homes in Phase I were built, money was not available for solar water heaters. However, the Navy secured a $130,000 grant from the Federal Energy Management Program (FEMP) to retrofit the Phase I homes with solar systems. They also qualified for a HECO rebate of $800 per unit. The 136 units built during Phase II of the project included solar systems in their specifications, so the Navy as able to take advantage of the $1,500 per system HECO rebate for new construction.
The Navy chose direct (open-loop) active solar water heating systems with 80-gallon tanks containing an electric backup element. By the time the 516 homes in Phases III and IV are complete, the Navy could save about $3 million over 25 years. Other military housing areas on Oahu are also being considered for solar thermal systems.
Initial investment: $2,310 total per system (including the rebate)
Payback period: 6.0 years