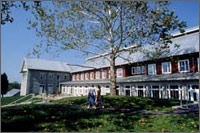 Shepherdstown, West Virginia, is the home of the U.S. Fish and Wildlife Service (USFWS) National Conservation Training Center (NCTC). The 500-acre site includes 16 buildings that accommodate education and training facilities for the USFWS. The center was designed to use passive solar and low-energy technologies that are readily available, easily maintained and cost effective.
The passive solar design features include an east-west orientation that provides good solar exposure. In winter, large southern windows capture solar gain and brick floors behind windows store heat. Windows are made of high-performance glass, which enhances direct-gain heating. In summer, the extended roof lines (overhangs) and landscaping provide optimum shading. Some windows are fitted with sunscreens that also help reduce summer cooling loads.
In addition to efficient heating, ventilating, and air conditioning, energy-efficient lighting, and super-insulation, the passive solar design of these buildings decrease the use of energy by more than 25%.