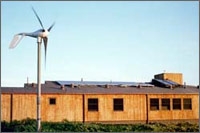 San Miguel Island is one of five islands that make up Channel Islands National Park on the coast of southern California. The islands comprise 249,353 acres (100,910 hectares) of land and ocean that teems with terrestrial and marine life. The National Park Service (NPS) protects the pristine resources at Channel Islands National Park by conserving, recycling, using alternative fuel vehicles, applying renewable energy, and using resources wisely. It also seeks to replace conventional fuels with renewable energy wherever possible. This applies especially to diesel fuel and petroleum, which must be shipped in from the mainland to generate electricity.
San Miguel is the third-largest island at 9,325 acres (3,774 hectares). It features a ranger station that incorporates a 900-W hybrid wind/photovoltaic power system, solar water preheater, rainwater collection for toilet flushing, low-flush toilets, nine solar tube skylights, three Sunfrost refrigerators, and low-volt fluorescent lighting.
With solar and wind energy, NPS is saving money at its Channel Islands National Park. It is also protecting the environment by reducing the risk of oil spills and by eliminating harmful emissions of gases and particulates.