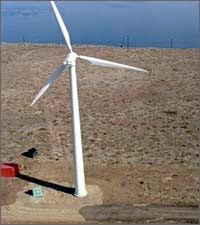 San Clemente Island is one of the Channel Islands off the southern coast of California. The U.S. Navy owns the 21-mile long island, making it one of the Navy's largest real estate assets. The Navy uses the island for research, development, testing, evaluation, and training.
Originally, the electrical needs of the island were provided by four diesel generators. In 1998 two wind turbines were installed through a joint project of the Department of Defense, the Department of Energy, and the Environmental Protection Agency working through the Federal Energy Management Program (FEMP). A third turbine was installed in 1999, allowing the wind to produce electricity that provides at least 25% of the island's total electricity demand with optimum winds.
The wind turbines are rated for an output of 225 kW each. They have rotors with an approximate diameter of 30 meters, and start producing power at wind speeds of nine mph (4 m/s) and work well up to 56 mph (25 m/s). When the winds are very low or calm, diesel generators kick in to provide power. With the wind turbines, diesel use has been greatly reduced with fuel savings projected to be more than $160,000 annually. The Navy is also considering a fourth turbine for San Clemente to use for water desalination.
Initial investment: $1,956,510
Payback period: 6.65 years
Cost savings: $294,000