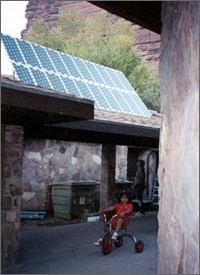 The Havasupai Indian Reservation village of Supai, Arizona, is located approximately 40 miles northwest of Grand Canyon Village, AZ. It is one of the most remote Native American communities in the nation. Most supplies must be either flown in by helicopter or trekked in on horseback or by mule trains. Three photovoltaic (PV) energy systems will supply up to 2 kilowatts of electrical power each to three facilities, which include a school, a jail, and a government complex that houses local teachers and police officers.
This community of 2,000 people experiences three or more electrical outages each year that last from one to five days each. The outages may be the result of the nearness of the water table to power lines that short out when they get wet. The blackouts interrupt vital services and increase the maintenance costs associated with the power lines.
When outages occur, the Bureau of Indian Affairs (BIA) must bring in diesel fuel for generators by helicopter, which costs $650 per hour for the helicopter alone. Using PV systems rather than diesel generators as backups could save the BIA more than $2,700 annually for each avoided trip. The BIA estimated the simple payback for this $61,000 project based on energy savings at 16.4 years. The simple payback would be significantly lower if the cost of the helicopter is factored in. The new PV systems will not only help prevent outages, they will also prevent loss of communication, refrigeration, and domestic water supplies caused by blackouts.
These energy systems will also serve as examples in the workshops on PV installations that will be held for tribal members. Native Americans associated with this project will receive training in the maintenance and operation of the new systems. The utility and maintenance cost savings resulting from this project can be redirected to new community and economic development activities.
Initial investment: $61,000
Payback period: 16.4 years