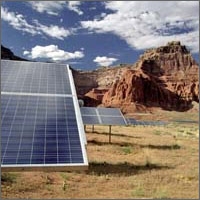 Lake Powell is part of Utah's Glen Canyon National Recreation Area. The Dangling Rope Marina used diesel generators to supply power. They used 65,000 gallons of diesel fuel per year that had to be barged in over Lake Powell. The potential for environmental damage to the marina in the event of a fuel spill was significant, and the cost to the National Park Service (NPS) for transporting each fuel delivery was considerable. Consequently, the installation of a photovoltaic (PV) system presented many advantages.
This is the largest PV system the NPS has installed with 115 kilowatts of energy being produced. A 59% improvement in energy efficiency has been realized and a positive cost saving of $270,149 (net after investment) per year shows the savings with solar. The total installed cost was less than $12 per watt.
"The Dangling Rope project made economic and environmental sense. Everyone agreed solar was the appropriate technology in the appropriate place," said Jeff Burks of the Utah Office of Energy and Resource Planning.
Initial investment: $1,500,000
Payback period: 13 years
Cost savings: $115,000/year
Energy savings: 65,000 gallons of diesel fuel