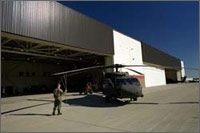 Fort Carson U.S. Army Base is located south of Colorado Springs, Colorado. It was the first Federal facility to install a "solar wall"—a solar ventilation air preheating system. The solar wall heats Ft. Carson's new high-bay aviation maintenance facility at Butts Army Airfield by pre-warming air as much as 54°F and supplying the heated air to the building's central heating system. This collector system is especially advantageous for buildings that require large volumes of heated air.
The system cost $140,000 to design, build, and install. The unglazed collector consists of 7,800 ft.² of sheet metal dotted with tiny holes. It is mounted several inches from the wall on the south side of the hanger. The collector warms the outside air as it flows through the holes. As the air rises in the space between the wall and the collector, it is drawn into the building's air duct system. Then, the building's central heating system boosts the temperature to the desired level.
In addition to the approximate $11,000 of energy savings a year, the solar collector improves the indoor air quality, which adds to occupant safety and comfort. It requires virtually no maintenance and only smaller heating systems, which significantly reduces costs.
Initial investment: $140,000
Payback period: 13 years
Cost savings: $11,000/year
Energy savings: 2,444,000 ft³ of natural gas