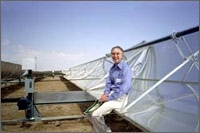 A parabolic-trough solar water-heating system was installed at the Federal Correctional Institution (FCI) facility north of Phoenix, Arizona. This medium security prison for males has a current population of about 1,200 inmates and uses an average of 50,000 gallons of hot water per day for kitchen, shower, laundry, and sanitation needs.
The system includes 18,000 square feet of parabolic trough solar collectors and a 21,000-gallon thermal energy storage tank located adjacent to the solar field. An incoming cold-water supply line is routed to a copper-coil heat exchanger in the thermal storage tank and then through insulated underground piping to the buildings. The hot water is then tempered down to 140°F (60°C) when necessary and serves as preheated incoming water for the existing electric water heaters in each building. The system meets about 82% of the hot water needs for FCI-Phoenix and most of the demand during the peak morning period. It is designed to provide 4.9 billion Btu of energy per year. The electricity saved is equivalent to the amount used by 150 people for all purposes.
Energy Savings Performance Contracts (ESPC) were used to help finance the project, with a joint effort between the U.S. Department of Energy (DOE), the Federal Bureau of Prisons, and the Industrial Solar Technology Corporation (IST). The economic savings of the project reflect the favorable impacts of good location for receiving sunlight and a large facility, and show how high conventional energy costs can make a parabolic trough system economically attractive. Facilities such as prisons, hospitals, and military barracks with large, constant hot water loads are particularly good candidates for this technology.
Initial investment: $649,000
Payback period: 8 years
Cost savings: $78,000/year (with 90% going to IST under the ESPC)
Energy savings: 1,161,803 kWh/year (at $0.07/kWh)