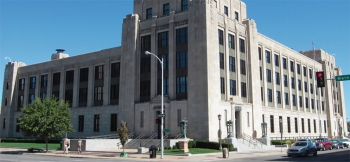 U.S. General Services Administration's Wichita U.S. Courthouse was the winner of the 2013 Better Buildings Federal Award.
The Federal Energy Management Program's (FEMP) Better Buildings Federal Award recognizes the federal government's highest-performing buildings through a competition to reduce annual energy use intensity (Btu per square foot of facility space) on a year-over-year basis.
FEMP presents its annual Better Building Federal Award to the highest performing government building that participates in the U.S. Environmental Protection Agency's (EPA) Battle of the Buildings national competition.
FEMP strongly encourages agencies to participate in this annual EPA competition, which uses Portfolio Manager to measure, track, and report buildings' monthly energy consumption.
Better Buildings Federal Award Winners
See the Better Buildings Federal Award winners dating back to 2012.