YOU ARE HERE

Once the key information has been compiled, a Federal agency should be well-positioned to address the following questions at the agency, program, or site level, as appropriate:
What Proportion of Employees Travel?
Developing an understanding of who is traveling will help to establish a more useful baseline and measure of progress than tracking change for all employees. An example of how this can better inform planning is shown in Figure 1. Looking only at the total trips and total employees at Agency ABC, the resulting metric is 2 trips per employee per year. However, because only 40% of employees at Agency ABC travel the average number of trips per traveler per year is 5. Because the goal is to only manage change among travelers – and not whether the number of non-travelers has changed – it is more meaningful to look at the trips per traveler metric.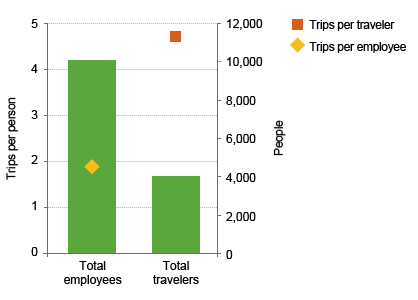 Figure 1. Travel frequency metrics can help establish a baseline for the
proportion of employees who travel
Tracking the average number of trips per traveler can be especially useful at a site level, as it can provide a basis for comparing multiple sites within a program.
Why Do Employees Travel?
Organizations also need to understand why their employees travel. Agencies may analyze travel patterns using the travel purpose codes established in the Federal Travel Regulation Chapter 301, or may use agency-specific purpose of travel codes that have been developed. Federal Travel Regulation codes include:
Mission (Operational) (e.g., site visits, information meetings, audits)
Special Agency Missions (defined by agency, e.g., security missions, emergency response)
Training
Conferences (other than training)
Employee Emergency
Relocation.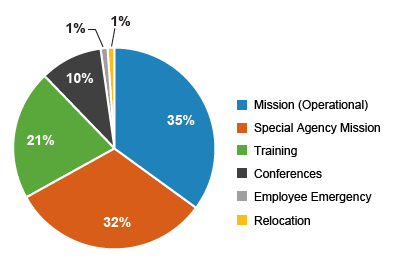 Figure 2. Breakdown of travel by purpose
Agencies may find that a different disaggregation of activities such as site visits, managerial activities, and other purposes of travel, may help the agency evaluate accuracy the type and number of trips per year that may be effectively reduced. Whatever identifiers are used, it important that the definitions are clear to travelers and that those approving travel review them for accuracy.
Figure 2 illustrates an example breakdown of travel according to primary purpose.
Understanding why people travel will help to identify the most effective alternatives. For example, desktop collaboration solutions may be an effective substitute for some types of training needs, whereas high-end videoconferencing suites may be a more appropriate substitute for some regularly scheduled managerial and operational meetings. Furthermore, this will help in establishing what reductions are feasible, as not all travel can be avoided or effectively substituted. Special agency missions, such as emergency response activities, are one example of travel that can be difficult to substitute. Potential strategies for reducing emissions based on purpose of travel are discussed in more detail in the next step to evaluate GHG reduction strategies.
What Are the Most Frequently Traveled Destinations?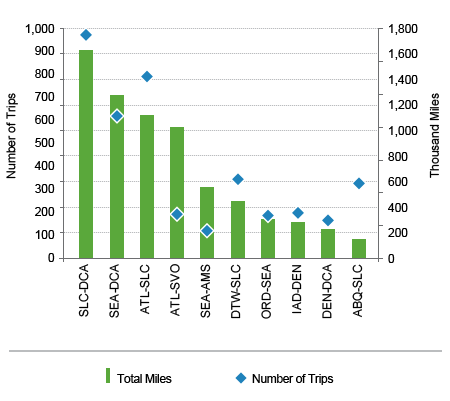 Figure 3. Comparison of the number of trips by the number of miles
Understanding where people travel is also important in order to identifying solutions that will be most effective. While enterprise-wide video and IT solutions may help reduce travel, deploying such solutions at every site is not cost-effective. Focusing on the top origin and destination cities ("city pairs") and comparing the total miles traveled and the total trips can help to assess the impact of reducing travel between those destinations. Examining city pairs that comprise 25% to 50% of total agency trips will help the agency identify the most suitable locations to target for change. The agency may need to examine additional city pairs if mission-related constraints limit travel alternatives for the most traveled certain city-pair destinations.
As illustrated in Figure 3, if the agency were to look only at the total number of trips or the total miles travelled, some city pairs with high potential for GHG reduction impact could be overlooked. In this example, while Atlanta to Moscow (SVO) is ranked as the fourth highest city pair in terms of mileage, it is ranked as the 7th highest city pair in terms of total trips. Understanding the relative impact of eliminating one trip will help when evaluating GHG reduction strategies in the next step.
What Is the Current State of Travel Alternatives?
In order to encourage and enable behavior change required to reduce business travel, appropriate infrastructure and tools need to be in place. Optimizing IT infrastructure is one way to support alternatives to travel. An assessment of the number, location and effectiveness of existing videoconferencing centers and desktop video options, in conjunction with the characterization of an organization's travel completed above, helps the organization identify what kind of upgrades would be most effective, and where.
Table 1. Example Template to Assess the State of Technology Alternatives to Travel
Alternative
Available Locations
Frequency of use
Performance quality and user satisfaction
Videoconferencing suites
Washington, DC (Federal Building X), Salt Lake City (Federal Building Y)
DC: used once per week on average by 10 employees (out of 500)
Salt Lake City: used once per month on average by 5 employees (out of 100)
Low to moderate quality. User concerns with ease of use and communication performance.
Desktop Video
Programs A, D, and E have access to desktop video software. Must purchase a web camera to use.
25% of Program A employees use frequently; 50% of Program D employees use frequently; 30% of Program E employees use frequently
High satisfaction with internal video capability, low satisfaction with external video use.
What Are Existing Travel Policies and Approval Processes?
Knowing the existing travel policies and approval processes in place at the agency, program, or site level, helps to understand what requirements drive decisions to travel. Existing policies could encourage or discourage GHG reduction opportunities. Modifying existing policies or establishing new ones, can be an effective way to direct reductions. However, care should be taken to ensure that new requirements do not add unnecessary burden on employees.
Next Step
After analyzing the data to evaluate the emission profile, the next step in GHG mitigation planning for business travel is to evaluate GHG reduction strategies.
Feedback
Did you find the information that you needed? Please let us know. FEMP welcomes any feedback on its GHG mitigation content. To provide feedback, see Contacts.