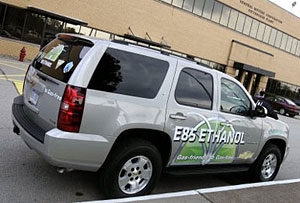 Flexible fuel vehicles (FFVs) are capable of operating on gasoline, E85 (85% ethanol, 15% gasoline), or a mixture of both. There are almost 8 million flexible fuel vehicles on U.S. roads today, but many FFV owners don't know their vehicle is one.
Unlike natural gas vehicles and propane bi-fuel vehicles, flexible fuel vehicles contain one fueling system, which is made up of ethanol-compatible components and is set to accommodate the higher oxygen content of E85.
E85 should only be used in ethanol-capable FFVs. For more information, read Flexible Fuel Vehicles: Powered by a Renewable American Fuel. Download Adobe Reader.
Other than fueling capability and ethanol-compatible components, FFVs are similar to their conventional gasoline counterparts. Their power, acceleration, payload, and cruise speed are comparable whether running on ethanol or gasoline. The only noticeable difference is that the fuel economy is lower when FFVs run on ethanol.
Visit the Alternative Fuels and Advanced Vehicles Data Center to learn more about flexible fuel vehicles.